(Patrick Howley) The Joe Biden administration has created a "Vaccine Hesitancy Map" using U.S. Census Data in order to help pro-vaccine activists target counties where people who don't want to take the vaccine live.
Related Sen. Ron Johnson Hearing: Mother with Disabled Daughter Breaks Down Crying While Sharing How COVID Vaccine Shattered Her Daughter's Life (VIDEO)
by Patrick Howley, June 28th, 2021

The Biden regime's "We Can Do This" initiative, operated by the Department of Health and Human Services, seeks to embolden activists around the country to push the Coronavirus vaccine on their fellow Americans. Now, the activists can look at a color-coded "vaccine hesitancy" map that features vaccine hesitancy rates and racial demographics per county. HERE IS THE MAP THAT VACCINE PUSHERS COULD USE TO TARGET YOU.
"The map shows COVID-19 vaccination hesitancy estimates by county, plus additional facts to help you understand your outreach areas. Zoom in on an area and click on a county to see the information," according to the HHS website featuring the map.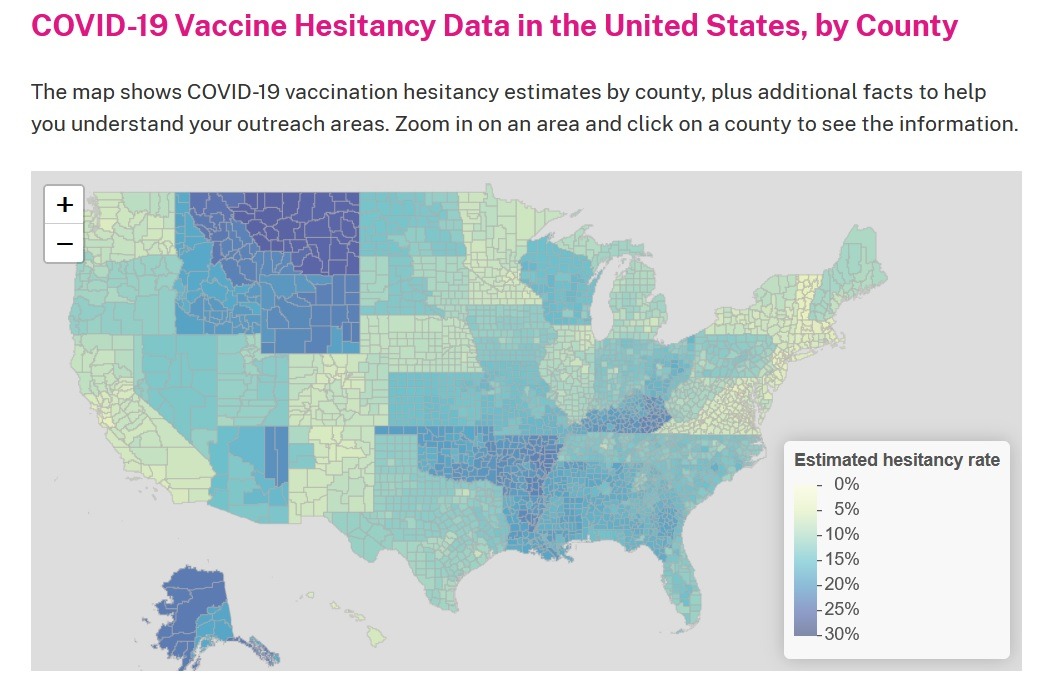 Kamala Harris is using the "We Can Do This" program to coach pro-vaccine activists on how to go door to door pushing the vaccine. Here are excerpts from a transcript of some of her recent remarks during a pro-jab tour stop in Atlanta, courtesy of Zero Hedge: "If you knock on the door and someone says they don't have the time to get the vaccine — because people are busy. They're trying to just make it through the day. Or they say that pharmacies are never open when they do have time, well, let's address that.  Because now, you can let them know that pharmacies across our country are keeping their doors open for 24 hours on Fridays in June, including today.
What if they say they can't miss work?  Well, you can tell them that there are employers across the country who are offering paid time off for their employees to get vaccinated. Other folks who need time to recover after they get the shot, right? And may need a little moment where they need some help with their kids.  So we have partnered with the YMCA, with KinderCare, and the Learning Care Group to provide free childcare for both vaccination and recovery. You might run across people as you're out talking and knocking, folks might say, "I don't have a car" or "there's no public transportation or bus that comes by my house."  And that's fair, because how can we expect them to get to a vaccination site? Well, now, as part of the solution, rideshare companies are giving free rides to and from vaccination centers….Perhaps one of our biggest barrier, it's the issue of information and, in particular, misinformation.  So we need to deal with that.  And this is why we need you out in the community.  There are people who are uncertain about getting vaccinated.  They may question the safety or the efficacy. Does the vaccine work?  And they may have heard things that aren't quite true.  And so let's arm ourselves with the truth to arm them with the truth. We can say with confidence the vaccines are safe — they are safe, and they are free, and they are effective. And this is important to say — virtually every person who is in the hospital right now sick with COVID-19, where their families are sitting by the bed, holding their hand, almost every one of those persons is unvaccinated."
About The Author
Patrick Howley is a seasoned reporter responsible for revealing the Veterans Affairs scandal, exposing Ralph Northam's racist yearbook photo, breaking the Cal Cunningham adultery scandal, and revealing the financial links between the Pelosi family and Ukraine. Howley is currently focusing on the possible politicization of Child Protective Services. Follow Patrick on Twitter @HowleyReporter and at Gab.com/patrickreports
Stillness in the Storm Editor: Why did we post this?
The news is important to all people because it is where we come to know new things about the world, which leads to the development of more life goals that lead to life wisdom. The news also serves as a social connection tool, as we tend to relate to those who know about and believe the things we do. With the power of an open truth-seeking mind in hand, the individual can grow wise and the collective can prosper.
– Justin
Not sure how to make sense of this? Want to learn how to discern like a pro? Read this essential guide to discernment, analysis of claims, and understanding the truth in a world of deception: 4 Key Steps of Discernment – Advanced Truth-Seeking Tools.
---
Stillness in the Storm Editor's note: Did you find a spelling error or grammatical mistake? Send an email to corrections@stillnessinthestorm.com, with the error and suggested correction, along with the headline and url. Do you think this article needs an update? Or do you just have some feedback? Send us an email at sitsshow@gmail.com. Thank you for reading.
Source:
https://nationalfile.com/biden-admin-creates-vaccine-hesitancy-map-to-help-activists-target-vaccine-skeptics-door-to-door/
DIRECT DONATION
Support our work! (Avoid Big Tech PayPal and Patreon)