(Exploring Your Mind) Getting someone to open up is important to connect to them. How do you do it, though? What course of action can help you reach this goal? Today's article contains six keys to do so.
Related Christianity Surges in China, CCP Fears '300 Million-Strong' Resistance
by Staff Writer, March 22nd, 2021
Is getting someone to open up to you possible? How do you do it? Is it an easy or difficult task? You'll find the answer to every single one of these questions in this article. It's a reflection of some of the most important values when it comes to connecting with people. This is because interpersonal relationships require trust, for example. It makes it more likely for a person to feel at ease when it comes to expressing their feelings.
There's no magic formula to do this, though. Besides, some people express the things they feel more easily than others. However, some small actions can definitely bring you closer to this purpose. Continue reading to find out what they are!
Being honest with others, listening to them actively, and not judging them (at least not vocally), are some of the first steps that can help you connect with people. That connection is precisely what'll make it easier for others to open up to you. In addition, the other person will feel more comfortable and confident. Below, discover six keys to getting someone to open up to you.
"Before you start to judge me, step into my shoes and walk the life I'm living, and if you get as far as I am, just maybe you'll see how strong I really am."

-Anonymous-
Be yourself
Authenticity calls for authenticity. Therefore, you must be authentic if you want someone to open up. Just be yourself. This is because it'll make it easier for the other person to be authentic with you and want to show themselves as they are and express how they feel.
This takes time, dedication, and perseverance. Besides, some people find it harder to open up to others. Thus, it's best to project who you are so others will want to mirror you.
Active listening is key for getting someone to open up to you
This kind of listening has received multiple definitions. The researchers Hernandez and Lesmes (2018) define it as a "form of communication that conveys clear ideas without interrupting the receiver" in a study published in the journal Convictions. You actively listen to someone by paying attention to them and asking anything you need to understand them better.
In a way, this can help those who are listening to you to open up. In this regard, José Andrés Murillo, author of the book Confianza Lúcida (In English: Lucid Trust) (2012) says that listening to others fosters the trust they have in you. Moreover, the greater the trust, the more likely they'll be to express what they really feel.
Keep judgments to yourself
The chances of that person opening up to you drastically go down when you judge them (especially if they sense it). Why? Precisely because no one likes to be judged. It's like when you consult a psychologist. The goal is to open up to them and tell them what they need to know so that they can help you.
What happens if you feel judged by this professional? It'll probably cost you twice as much to open up to them the next time. Thus, another key to getting someone to open up to you is to keep your judgments to yourself.
Getting someone to open up to you requires empathy
Empathy is a quality, an ability that allows you to put yourself in another person's shoes. It also allows you to feel what they feel (or at least understand it better). It's a value that facilitates social communication and, above all, the fact that someone shows themselves as they are to you.
Listening and treating others with empathy will help them feel freer to express themselves. This is because they feel understood and supported. Thus, listen to people from the bottom of your heart and put yourself in their shoes if you want them to open up.
Find a topic you have in common
Another key to getting someone to open up is to find a topic to talk about. How so? Well, find something that interests them, or one that's easy for them to talk about. Always avoid sensitive or painful topics at the beginning (especially if you don't know the person well).
You can get to know a person through an initial conversation. This takes time, as with everything else. The best way to cultivate the trust that others can place in you is to dedicate time to that person. In this regard, start talking about topics that are more accessible or easier for them.
Take the initiative
This can be particularly useful when a person is having a hard time opening up or expressing themselves. It's a good way to break the ice and direct the interaction. There are people who need this initiative to open up emotionally.
In this regard, it may be good for you to start the conversation or contact and, once established, be the one to propose topics, ask questions, etc. Never in an invasive or intimidating way. Instead, do so tactfully and gradually.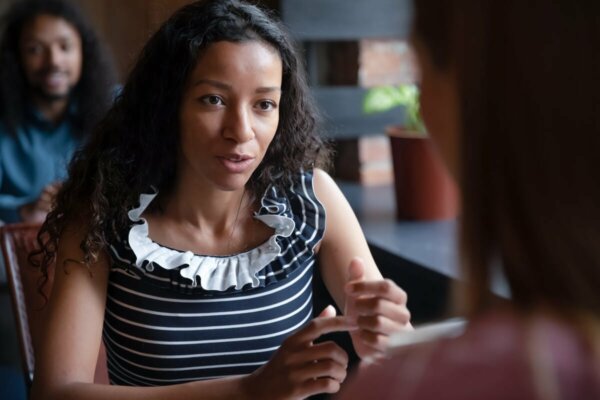 A useful exercise for getting someone to open up to you
This isn't easy so you must always act with respect and empathy by putting yourself in their shoes. The importance of not judging others is one of the points mentioned above. This is because doing so can be a huge deterrent for the person who's trying to open up to you.
People who feel at ease will open up to others and share, communicate, and express themselves. Thus, do you really want someone to open up? You don't know how to start? Do this little exercise and ask yourself how you'd feel more comfortable expressing your feelings. In what kind of conversation and environment? With what kind of people? What would you expect from the other person?
---
CHEMTRAIL PROTECTION AT LAST!
Worried about toxins from geo-engineering? Headaches, digestion issues, emotional problems? You might be chem-sick. Detox NOW with:
Pure Body Digest Detox and Pure Body Extra Strength Cellular Detox
Stillness in the Storm Editor: Why did we post this?
The news is important to all people because it is where we come to know new things about the world, which leads to the development of more life goals that lead to life wisdom. The news also serves as a social connection tool, as we tend to relate to those who know about and believe the things we do. With the power of an open truth-seeking mind in hand, the individual can grow wise and the collective can prosper.
– Justin
Not sure how to make sense of this? Want to learn how to discern like a pro? Read this essential guide to discernment, analysis of claims, and understanding the truth in a world of deception: 4 Key Steps of Discernment – Advanced Truth-Seeking Tools.
---
Stillness in the Storm Editor's note: Did you find a spelling error or grammatical mistake? Send an email to corrections@stillnessinthestorm.com, with the error and suggested correction, along with the headline and url. Do you think this article needs an update? Or do you just have some feedback? Send us an email at sitsshow@gmail.com. Thank you for reading.
Source:
https://exploringyourmind.com/six-keys-to-getting-someone-to-open-up-to-you/
DIRECT DONATION
Support our work! (Avoid Big Tech PayPal and Patreon)