(Tony Ortiz) As Current Revolt reported on Wednesday, Republican Party Party of Texas Chairman Allen West has made an account on Gab.com, striking a severe blow to establishment Texas republicans such as Governor Greg Abbott and state GOP vice chairwoman Cat Parks.
Related Gab Founder Says He'll No Longer Do Interviews with 'Pagan' Media
by Tony Ortiz, March 31st, 2021
Abbott smeared Gab as an "anti-Semitic platform" earlier this month, and Parks pushed to have the state's GOP account removed from Gab.
"Anyone who knows me, knows I support our constitutional rights, including that of Free Speech," West posted on Gab this Wednesday.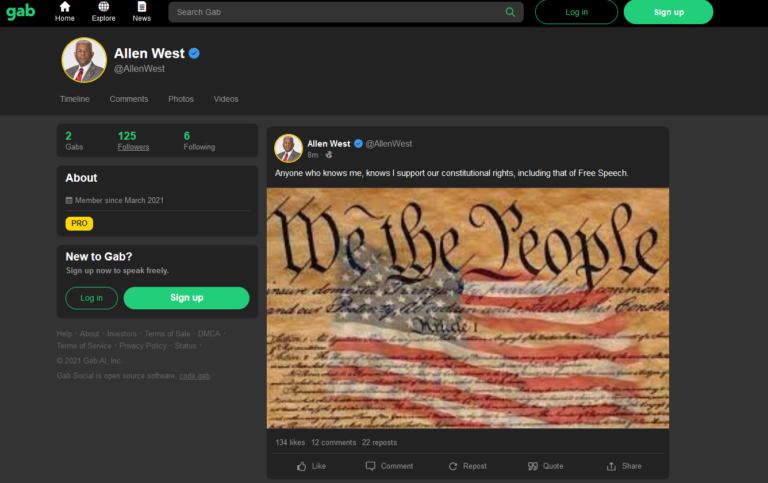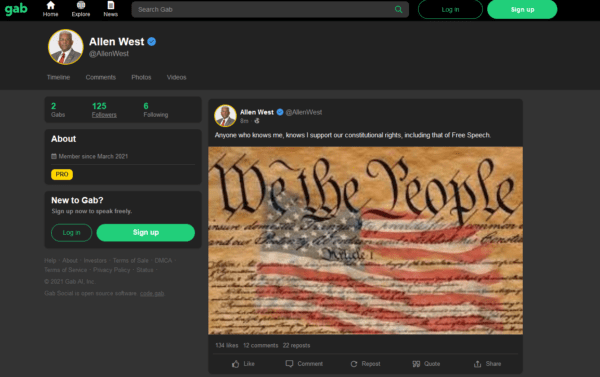 This is notable considering 35 members of the Texas SREC voted to remove the GOP Gab account. Some are claiming the vote was rushed through, and members didn't know what they were voting on. Others have expressed disdain for white, right-wing Christians, and prefer the party support only leftist companies while using the Gab issue to push a larger agenda aimed at de-Trumpifying the Party.
West's move to Gab comes just a few hours after the news broke that no new footage or posts that show President Trump speaking will be allowed on Facebook or Instagram.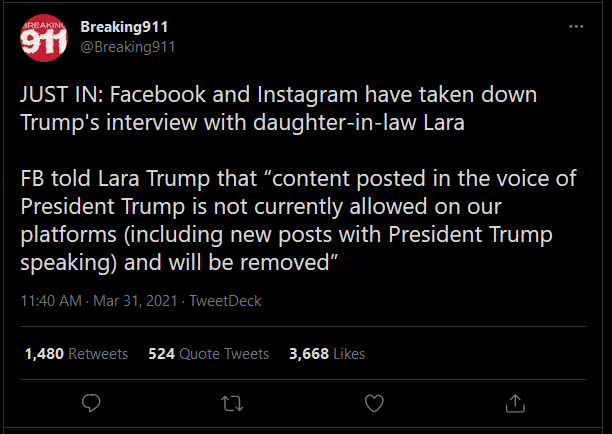 Critics have pointed out the apparent hypocrisy of Cat Parks and Greg Abbott pushing to smear and belittle Gab, while being copacetic with social media giants Facebook and Twitter completely unpersoning President Trump and other conservatives.
Below are the names of the Texas SREC members who voted to remove the Texas GOP account from Gab.
Rhonda Anderson
Charles Blankenship
Janis Holt
David Covey
Jo' Miller
Bill Fairbrother
Margaret Whitt
Steve Atwell
Susan Wright
Dawn Elliott
Roy Morales
Olga Lasher
Fernando Trevino
Matthew Patrick
Becky Green
Sean Cheben
Edee Sinclair
Joe Walz
Alma Arredondo-Lynch
Grace Jones
Carmen Calderone
Terry Harper
Jon Ker
Ruth Cremin
Jack Barcroft
Kris Coons
Mark Dorazio
Morgan Graham
Carlos Cascos
Robin Hayes
Steve Evans
Robyn Cooper
Britton Brooks
Support this site so we can continue to tell you the truth.
About The Author
Tony Ortiz began his political career working on the Trump Campaign in the 2016 election. He went on to work for several winning city council elections as well as some time working for a political non-profit. Texas citizen since 2002, Tony Ortiz supports Texas Independence and focuses on important issues facing Texans
Stillness in the Storm Editor: Why did we post this?
The news is important to all people because it is where we come to know new things about the world, which leads to the development of more life goals that lead to life wisdom. The news also serves as a social connection tool, as we tend to relate to those who know about and believe the things we do. With the power of an open truth-seeking mind in hand, the individual can grow wise and the collective can prosper.
– Justin
Not sure how to make sense of this? Want to learn how to discern like a pro? Read this essential guide to discernment, analysis of claims, and understanding the truth in a world of deception: 4 Key Steps of Discernment – Advanced Truth-Seeking Tools.
---
Stillness in the Storm Editor's note: Did you find a spelling error or grammatical mistake? Send an email to corrections@stillnessinthestorm.com, with the error and suggested correction, along with the headline and url. Do you think this article needs an update? Or do you just have some feedback? Send us an email at sitsshow@gmail.com. Thank you for reading.
Source:
https://nationalfile.com/breaking-allen-west-joins-gab-defends-free-speech-against-establishment-smears/
DIRECT DONATION
Support our work! (Avoid Big Tech PayPal and Patreon)