(Stillness in the Storm Editor) What's the most important skill or trait for a happy, productive, and empowered life? You might think intelligence, money, fame, or good looks, but these traits are almost useless if you don't know how to persuade. All of the most rewarding activities in life are social activities, which require the ability to share your ideas in ways others value and want to participate in, which includes romantic relationships, friendships, business, and even the relationship with the self and inner child.
In the modern world of fast-paced living and instant access via cell phones and the internet, the all-powerful art of persuasion and it's consort, patience, have been marginalized.
And yet, manifesting your dreams requires a good working relationship with reality. You need to learn how to speak the language of action, guided by your knowledge of the truth, the world, and how to do what you want.
Buy Book Pre-Suasion: A Revolutionary Way to Influence and Persuade
In this way, getting the life you dream of requires learning how to persuade reality.
For instance, if you want to feel confident in an interview for a new job, how do you do this? Can you scream at the top of your lungs, and the universe will magically grant your desires? Nope. It would be nice if it worked this way. Instead, the goal of feeling confident is itself the ability to understand how confidence comes about, which is the result of gaining skill in something and taking pride in the fact you can execute the skill consistently.
Thus, confidence is an act of self-communication, wherein you persuade your subconscious that you are actually confident, by talking to your body and mind through action.
The inner child, which is the somatic body or your physical body, made out of material substance, needs to be treated with respect—the language it listens to is thought, intention, action, and emotion. Those of us who learn how to persuade our minds and bodies will go on to become highly successful people, able to manage challenging situations, learn new skills, and perform them well.
Buy Book The 48 Laws of Power
But the game of persuasion doesn't end there. It's also needed in all social relationships you'll have throughout your life.
Persuasion is all about negotiation, the art of sharing your desires and intentions so that others want to join with you. Romance is the dance of persuasion, using body language, tone of voice, subject matter, and emotional authenticity as pillars in the adventure of convincing another you're life goals, path, and being are worthy to join with, even necessary for you and another to have a fulfilling life.
Settling or resolving conflict is an act of persuasion. A disagreement is itself a loss of mind to mind resonance—when two people aren't on the same page.
If things get out of hand, another person might lose interest in talking to us altogether. From here, this loss of social trust and openness often needs to be restored using a host of techniques designed to heal wounds and restore fellowship.
For instance, when in a situation that requires compromise, where, let's say, you want your roommate to clean the bathroom more regularly, you can empathize with them. Recognize that the reason they aren't cleaning it could be, because they don't think they have the time, or don't value a clean bathroom in the same way you do. As such, presenting your suggestion in a way that speaks to their needs will make them feel like you truly care about their quality of life, and want to ensure their needs are being met. Such a method creates balance and fairness because now they feel like they are being considered fully insofar as what accepting your suggestion would mean for them.
And there are more and more reasons to list as to why persuasion is a vital life skill.
In my analysis, those who are less masterful at persuasion often feel frustrated, codependent, and can resort to manipulation tactics to get their way. So even if you don't like the idea of persuasion, the less assertive and capable you are in negotiating your life the more likely you are to justify harmful behavior.
Thus, to ease your own mind, and help bring harmony to the world, learning how to master the art of persuasion, which is a pillar in the social manifestation toolbox, you'll help others by not trampling on their rights.
 – Justin
(Exploring Your Mind) Persuasive communication isn't just about manipulation. You can also use it to start big projects and fight harmful ideas.
Related Text Relationship Mistakes: 8 Things to Reconsider Sending in a Text to Avoid Miscommunication
by Staff Writer, December 11th, 2019
Persuasive communication has earned a certain negative connotation in recent years. People associate it with manipulation – of opinions, ideas, and people.
It's true that you can use it to manipulate. But if you look past that, you'll see that persuasive communication skills can also help people support good initiatives. Additionally, they can also help you fight bad ideas or intentions. It's a type of communication that people in large organizations are always trying to boost. It's also highly valued in politics.
You live in an era of communication. Although you may not have stopped to think about it, everyone is a communicator in a sense. Social networks have given people a stage where they have to communicate with others on a daily basis. This often includes communicating with people of different cultures or who have different ideas and opinions.
In addition, you often influence other people without even intending to do so. But everyone presents their opinion and their point of view all day long. Also, everyone wants their opinion to be taken seriously and accepted. At the very least, if people push it aside, you'd probably like them to have good reasons for doing so.
Buy Book Subliminal: How Your Unconscious Mind Rules Your Behavior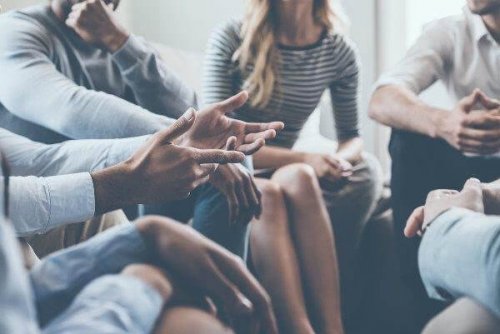 What's persuasive communication?
Here are two definitions of persuasive communication:
"Persuasive communication is the intentional use of communication to deliver an important message with the purpose of convincing the audience of something."
"Persuasive communication is the intentional use of communication to manipulate masses."
Is it the same message? Do they have the same intentions? The message might be positive or negative. The intention can also be good or bad. However, in order for it to be persuasive communication, it requires certain elements. These are: a communicator, a message, a receiver, and a channel. Let's look at how these four elements work:
Elements of persuasive communication
The communicator. There's a general tendency to either accept or reject a message depending on who's delivering it. That often overrides even the content of the message itself. Some of the most important variables for success in persuading people are the communicator's credibility and appearance.
The message. It's easier to persuade people when the message is novel, brief, and full of emotion. These emotions can either be positive or negative, such as either hope or fear. You can present both sides when delivering a message. This means giving the pros and the cons of your idea or opinion. These would be more persuasive to audiences that possess more information and education. You can also present your ideas in a one-sided or biased way. In this case, the message would only contain the position the speaker intends to convince people of. These types of messages are more influential for people with less information.
Receiver or audience. In this category, the most important qualities of the receivers are their intelligence or self-esteem. These two factors might make the difference between whether a message is accepted or rejected. People with higher intelligence and higher self-esteem need to analyze discourse more before accepting other people's arguments. A curious aspect is that people achieve the highest levels of persuasion not immediately but after several weeks. Psychologists call this the "sleeper effect".
The channel. Simple messages can convince people better if you present them audiovisually. More complex messages can convince people better if you present them through print.
Buy Book Nonviolent Communication: A Language of Life, 3rd Edition: Life-Changing Tools for Healthy Relationships (Nonviolent Communication Guides)
Persuasion or manipulation?
You might often confuse the meaning of these two terms. Nowadays, persuasive communication is any type of communication carried out with a purpose. That intention is often nothing more than the desire for other people to support your ideas or opinions. In many cases, they might even be good ideas. They might be ideas that could contribute significantly to other people's well-being, improving your social or professional environment.
Not everyone wants to manipulate others for their own benefit. Everyone continuously uses persuasive communication even if they might not be aware of it. Nevertheless, you can boost your persuasive communication if you know some good techniques. The most important ones are:
Logic. Many people defend their ideas or opinions based solely on emotions. Opinions based on emotions might lead people to insist that some truly strange ideas are true. Yet when your arguments lack logic, you might find it hard to convince others. Emotions are necessary but they should be combined with logic.
Manners. People who try to impose their ideas on others using insults and disrespectful language rarely succeed. You probably encounter this on a daily basis on social media. Presenting your opinions in a respectful way tends to be much more persuasive.
A sense of humor. This is essential, especially when you're refuting opposing arguments. It's better to use irony than sarcasm.

Persuasive communication is an art
Considering everything we've discussed here, persuasive communication is an art. As with any art, you can practice in order to get better at it. At the very least, it's an excellent idea to make use of it. Without persuasive communication, there can't be leadership and you wouldn't be able to fight harmful ideas.
Stillness in the Storm Editor: Why did we post this?
Psychology is the study of the nature of mind. Philosophy is the use of that mind in life. Both are critically important to gain an understanding of as they are aspects of the self. All you do and experience will pass through these gateways of being. The preceding information provides an overview of this self-knowledge, offering points to consider that people often don't take the time to contemplate. With the choice to gain self-awareness, one can begin to see how their being works. With the wisdom of self-awareness, one has the tools to master their being and life in general, bringing order to chaos through navigating the challenges with the capacity for right action.
– Justin
Not sure how to make sense of this? Want to learn how to discern like a pro? Read this essential guide to discernment, analysis of claims, and understanding the truth in a world of deception: 4 Key Steps of Discernment – Advanced Truth-Seeking Tools.
---
Stillness in the Storm Editor's note: Did you find a spelling error or grammatical mistake? Send an email to corrections@stillnessinthestorm.com, with the error and suggested correction, along with the headline and url. Do you think this article needs an update? Or do you just have some feedback? Send us an email at sitsshow@gmail.com. Thank you for reading.
Source:
https://exploringyourmind.com/difficult-people-and-the-art-of-not-losing-yourself/