(Zero Hedge) Health officials in Wuhan, China reported 139 new cases of a new mystery virus over the weekend, now rapidly spreading to other provinces and surrounding countries, reported CNN.
Related FDA Shocking Study: Cells Used In Vaccines Contaminated With Serious Viruses Including Cancer
by Staff Writer, January 20th, 2020
As of Monday morning, three people have died from the pneumonia-like illness, and globally there have been more than 200 reported cases, noted Reuters.
Beijing confirmed two cases of coronavirus Monday, while Guangdong health officials reported one case in Shenzhen – these are the first reports that the virus is quickly spreading from Wuhan, the epicenter.
On Sunday, the World Health Organization (WHO) said the virus originated from a seafood/meat market in Wuhan, has likely spread through human-to-human transmission.
"It is clear that there is at least some human-to-human transmission from the evidence we have, but we don't have clear evidence that shows the virus has acquired the capacity to transmit among humans easily," said Takeshi Kasai, the WHO's regional director for the western pacific, in an interview with Bloomberg TV on Monday. "We need more information to analyze that."
There are significant concerns about a broader regional outbreak, reports Sunday warned the virus was detected outside China – two in Thailand and one in Japan.
The South Korean Centers for Disease Control and Prevention (SKCDC) confirmed Monday that a 35-year-old woman arriving at Incheon International Airport from Wuhan tested positive for coronavirus.
"She was immediately separated for treatment in quarantine at a state-designated hospital," the SKCDC said.
China's National Health Commission confirmed Monday that the virus has occurred via human-to-human transmission. This has worried officials in the country and in surrounding countries ahead of the Lunar New Year holiday, in which millions of Chinese tourists are expected to travel across the region, could lead to a widespread outbreak of the virus.
Buy Book AIDS and Biological Warfare
More than 7 million Chinese traveled overseas last year during the holiday season.
"I believe Chinese tourists will bring the virus to many other countries in Asia in the coming days, due to their overseas travels during the Lunar New Year holiday," Professor David Hui Shu-Cheong, a respiratory expert at the Chinese University of Hong Kong, told CNN Monday.
Neil Ferguson of Imperial College London warned late last week that upwards of 1,700 in Wuhan had been infected with the virus.
Airports in Singapore and Hong Kong have been screening passengers from Wuhan, while three US airports (San Francisco, Los Angeles, and New York) announced similar measures last week.
Investors on Monday dumped Chinese airline and casino stocks over fears a widespread outbreak of the virus could lead to lower holiday traffic.
Air China plunged 7.5% in Hong Kong to a one-month low, and China Southern Airlines and China Eastern Airlines were both down at least 3%.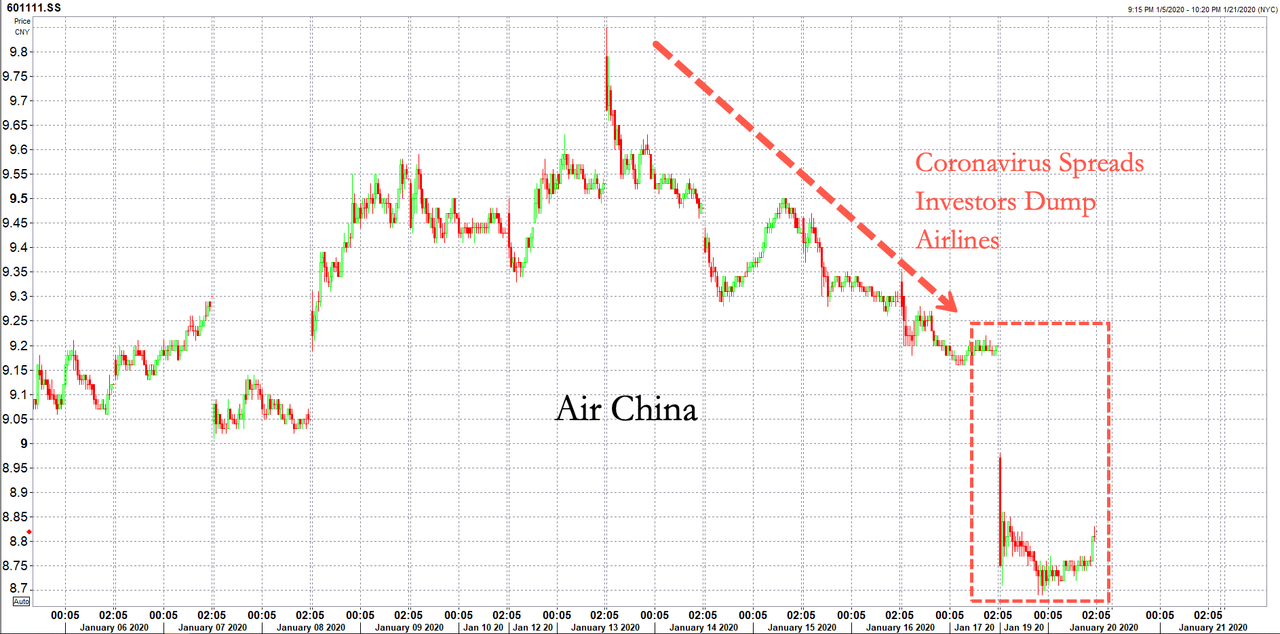 Macau gaming stocks dropped by 4%, the most since last August, with SJM Holdings down 5.6% and Sands China -5%.
Buy Book Toxic Constituents of Animal Foodstuffs (Food Science & Technology Monographs)
Shares of duty-free store operator Dufry fell nearly 7% on Monday over concerns the spread of the virus could lead to decreased air travel.
Mandy Jia, an analyst at SWS, told Bloomberg that investors sold casino stocks because the outbreak of the virus could lead to depressed holiday traffic.
If China and other Asian countries fail to control the spread of the virus during the upcoming holiday season, and a broader outbreak is seen, this could be a risk-off event for global equity markets.
Coronavirus is sweeping the planet. Guard against VIRUSES and Pathogens with the proven Colloidal Silver formula, Spartan Silver.
Colloidal Silver's antibacterial, antiviral, antifungal properties make it the go-to preventative for traveling abroad or living in a world of sickness and disease. Combined with other healing treatments, Spartan Silver delivers powerful healing, one of the highest quality products in the market. Feel the peace of mind as you rest easy knowing your health is in good hands.
Spartan Silver, on Sale Now, save 20% with PROMO CODE SITS20.
Stillness in the Storm Editor: Why did we post this?
The news is important to all people because it is where we come to know new things about the world, which leads to the development of more life goals that lead to life wisdom. The news also serves as a social connection tool, as we tend to relate to those who know about and believe the things we do. With the power of an open truth-seeking mind in hand, the individual can grow wise and the collective can prosper. 
– Justin
Not sure how to make sense of this? Want to learn how to discern like a pro? Read this essential guide to discernment, analysis of claims, and understanding the truth in a world of deception: 4 Key Steps of Discernment – Advanced Truth-Seeking Tools.
---
Stillness in the Storm Editor's note: Did you find a spelling error or grammatical mistake? Send an email to corrections@stillnessinthestorm.com, with the error and suggested correction, along with the headline and url. Do you think this article needs an update? Or do you just have some feedback? Send us an email at sitsshow@gmail.com. Thank you for reading.
Source:
https://thehill.com/homenews/senate/475855-democrats-worry-impeachment-acquittal-will-embolden-trump