"I've had insomnia for years. I visited a friend who had a Rest Shield, and I literally couldn't keep my eyes open after sitting next to it for 20 minutes." Paul Orgonite EMF Protection is HERE. 
(Zero Hedge) Update2 (12/8/2019, 11:15 a.m. ET): US military bases are on high alert following Friday's mass shooting at Navy Station Pensacola, according to Fox News. US Northern Command (Northcom) has called for random security checks at all sites.
Related False Flag? Six Saudis Arrested For Questioning After Pensacola Shooting – Three Were Filming Attack
by Staff Writer, December 7th, 2019
"Given the recent attacks at two military installations, the Commander, U.S. Northern Command has directed all DoD [Defense Department] installations, facilities and units within the U.S. Northern Command area of responsibility to immediately assess force protection measures and implement increased random security measures appropriate for their facilities," Lt. Cmdr. Michael Hatfield told Fox News.
While officials have not publicly disclosed how many missing servicemen are out there, U.S. Northern Command (Northcom) has called for increased random security checks at all sites as authorities investigating the attack are still working to determine whether the shooting was an act of terrorism. –Fox News
Meanwhile, the FBI is searching for missing Saudi nationals linked to the shooting. The agency's Jacksonville office confirmed that the shooter was Mohammed Alshamrani, 21, a 2nd Lt. in the Royal Saudi Air Force and a student naval flight officer of Naval Aviation Schools Command when he killed three people and injured 12 after opening fire.
Buy Book Adrenal Fatigue Syndrome: Reclaim your Energy and Vitality with Clinically Proven Natural Programs
---
High Vibrational Conscious Technology: 432hz Music Enhanced Intentionally Infused Orgonite Pendant.
Cured on vortex energy grid point in Arizona, contains two energized quartz crystals, for human biofield healing and enhancement.
Supplies Limited! ORDER NOW with Promo Code: SITS10 and save on this and all other Orgonite1111 purchases. GET YOURS TODAY! Batches are one of a kind and in limited supply! 
BREAKING NEWS: US Marshals helping track down as many as 10 Saudi nat'ls who have gone missing since Fri's terrorist attack on Pensacola air station, as fed investigators suspect the AWOL Saudi enrollees may be tied to Saudi terror cell that infiltrated US Navy installation in FL

— Paul Sperry (@paulsperry_) December 8, 2019
Alshamrani and the three Saudi military trainees mentioned below visited New York City in the days leading up to the shooting
 – visiting several museums and Rockefeller Center, according to the 
New York Times
.
While investigators haven't announced any ties to terrorist groups according to the Times, several US lawmakers say the shooting should be viewed as an act of terrorism.
"In my judgment, based upon all of the evidence I have seen, the F.B.I. will open this as an international terrorism case," said Rep. Michael McCaul (R-TX) who sits on the Homeland Security Comittee which has received a briefing on the case.
BREAKING: Tweet by #Pensacola attacker Alshamrani suggests terrorist motive. Does not claim allegiance to any group, but echos Bin Laden: "The security is a shared destiny…You will not be safe until we live it as reality in [Palestine], and American troops get out of our land." pic.twitter.com/KALH4PXYKy

— Rita Katz (@Rita_Katz) December 7, 2019
Update: The Saudi student who shot and killed three people at a US naval base in Florida hosted a dinner party the night before the attack where he and others watched videos of mass shootings, according to the Associated Press, citing a US official.
Buy Book How to Survive Off the Grid: From Backyard Homesteads to Bunkers (and Everything in Between)
Breakthrough Lyme Disease Natural Treatment
: Scalar Energy Enhanced, Lyme Tonic is a natural supplement fortified with herbs proven to treat symptoms and restore the immune system. Rest easy knowing you'll find yourself having the energy and vitality to live life to the fullest again!
Lyme Tonic on Sale Now, save 20% with PROMO CODE SITS20.
One of the three students at the dinner recorded the shooting outside the building at Naval Air Station Pensacola on Friday. According to the report, two other Saudi students watched from a car.
***
Six Saudi nationals were taken into custody for questioning near the Florida naval base where an Air Force trainee – also from Saudi Arabia – opened fire Friday morning, killing three before a sheriff's deputy shot and killed him.
According to the New York Times, three of the Saudis were filming the attack. It is unknown whether they were students at the base, or whether they are connected to the gunman.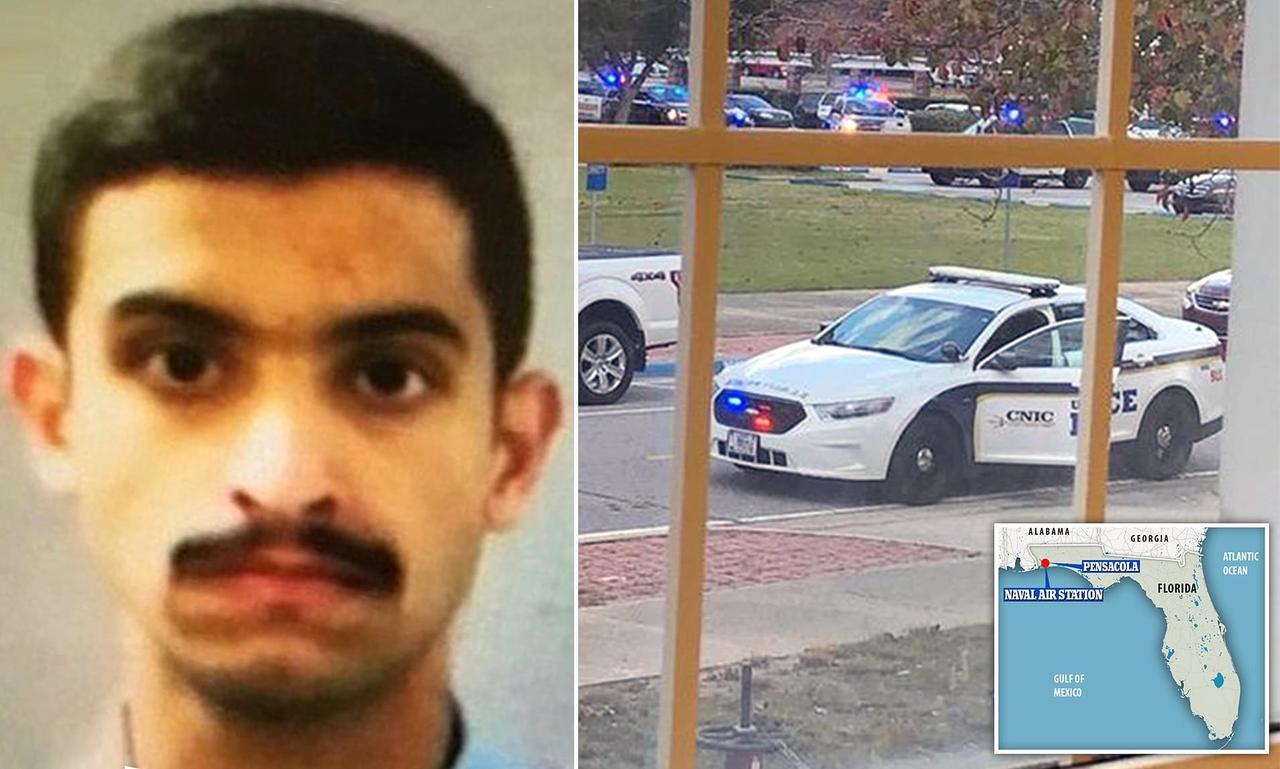 The shooting spanned two floors in a classroom, according to Sheriff David Morgan of Escambia Country. Two deputies were shot in the ensuing gun battle and are expected to recover.
The gunman, identified as Saudi Air Force second lieutenant Mohammed Saeed Alshamrani, used a locally bought Glock 45 9mm handgun with an extended magazine, and was carrying between four and six more magazines.
Buy Adrenal Support – Cortisol Manager – A complex formula containing Rhodiola Rosea, Vitamin B12, B5, B6, Magnesium, Ginger Root Extract, Ashwagandha, Schizandra Berry, Licorice & more – Vegetarian
Body For Awareness Project: Your clothes. Your body. Your truth. Support alt-media and help raise awareness. On Sale Now.
In his last message on Twitter confirmed by AFP, Alshamrani wrote that America is a nation of evil.
Pensacola terrorist's last tweet. pic.twitter.com/B9qLnYuTwH

— Rising serpent (@rising_serpent) December 7, 2019
The FBI is leading the investigation into the incident at Naval Air Station (NAS) Pensacola in Florida, and initially withheld Alshamrani's name.
He was allegedly a student enrolled in a Navy training program designed for " immersing international students in our U.S. Navy training and culture " to help "build partnership capacity for both the present and for the years ahead," accoring to Fox News, citing 2017 comments by Cmdr. Bill Gibson, who is the center's officer in charge.
"These relationships are truly a win-win for everyone involved," he added at the time.
Governor Rick Scott (R-FL) called for a "full review" of the Navy training programs in the wake of the shooting, while investigators have said they are exploring whether the attack was an act of organized terrorism.
"I'm very concerned that the shooter in Pensacola was a foreign national training on a U.S. base. Today, I'm calling for a full review of the U.S. military programs to train foreign nationals on American soil. We shouldn't be providing military training to people who wish us harm," said Scott.
Defense Secretary Mark Esper told reporters Friday that although his first priority is supporting the ongoing investigation and determining the shooter's motives, he also said: "I want to make sure we're doing our due diligence to understand what are our procedures" concerning the training programs.

"Is it sufficient [et cetera, et cetera] and it may not be — it may be the vetting — are we also screening persons coming to make sure that they have, you know, their life in order, you know, their mental health is adequate," Esper said. "So we need to look at all that."

Esper referred to the shooter as a Saudi national who was a second lieutenant in flight training.

Sources told Fox News that the scene of the shooting — a classroom, where students usually spend three months at the beginning of the program — indicated that the shooter was a student who was "early" in his training. –Fox News
Approximately 1,500 pilots are enrolled in the Naval training program – with Saudis having attended courses at the Pensacola site since the 1970s. According to the report, as many as 20 students from the Islamic Republic are in any given class – with many of them belonging to the Royal Family.
Buy Book The American House of Saud: The Secret Petrodollar Connection
---
CBD oil is proven to reduce stress, ease digestion issues, reduce pain, alleviate headaches and much more. Trust this high-quality source from Touchstone Essentials.
"I personally use this CBD Oil. It really does work. I've used it to calm my nerves from stress, relieve headaches, cramping, and quiet the mind for sleep."
– Justin
---
Following the shooting, the Saudi Arabian Ministry of Foreign Affairs conveyed "its deep distress," offering "its sincere condolences to the victims' families, and wishes the injured a speedy recovery."
"The perpetrator of this horrific attack does not represent the Saudi people whatsoever. The American people are held in the highest regard by the Saudi people," reads a statement from the Ministry. "Building upon the strong ties between the Kingdom of Saudi Arabia and the United States of America, and in continuation of the ongoing cooperation between the two countries' security agencies, the Saudi security agencies will provide full support to the US authorities to investigate the circumstances of this crime."
President Trump, meanwhile, relayed King Salman of Saudi Arabia's "sincere condolences," and gave his "sympathies to the families and friends of the warriors who were killed and wounded in the attack…"
"The King said that the Saudi people are greatly angered by the barbaric actions of the shooter, and that this person in no way shape or form represents the feelings of the Saudi people who love the American people," said Trump.
Stillness in the Storm Editor: Why did we post this?
The news is important to all people because it is where we come to know new things about the world, which leads to the development of more life goals that lead to life wisdom. The news also serves as a social connection tool, as we tend to relate to those who know about and believe the things we do. With the power of an open truth-seeking mind in hand, the individual can grow wise and the collective can prosper.
– Justin
Not sure how to make sense of this? Want to learn how to discern like a pro? Read this essential guide to discernment, analysis of claims, and understanding the truth in a world of deception: 4 Key Steps of Discernment – Advanced Truth-Seeking Tools.
---
Stillness in the Storm Editor's note: Did you find a spelling error or grammar mistake? Send an email to corrections@stillnessinthestorm.com, with the error and suggested correction, along with the headline and url. Do you think this article needs an update? Or do you just have some feedback? Send us an email at sitsshow@gmail.com. Thank you for reading.
Source:
https://www.zerohedge.com/political/six-saudis-arrested-and-questioned-after-pensacola-shooting-three-were-filming-attack