(Annie Kelly) A landmark legal case has been launched against the world's largest tech companies by Congolese families who say their children were killed or maimed while mining for cobalt used to power smartphones, laptops and electric cars, the Guardian can reveal.
Related The CIA Remote Viewed Mars in 1984
by Annie Kelly, December 16th, 2019
Apple, Google, Dell, Microsoft and Tesla have been named as defendants in a lawsuit filed in Washington DC by human rights firm International Rights Advocates on behalf of 14 parents and children from the Democratic Republic of the Congo (DRC). The lawsuit accuses the companies of aiding and abetting in the death and serious injury of children who they claim were working in cobalt mines in their supply chain.
The families and injured children are seeking damages for forced labour and further compensation for unjust enrichment, negligent supervision and intentional infliction of emotional distress.
It is the first time that any of the tech companies have faced such a legal challenge.
Cobalt is essential to power the rechargeable lithium batteries used in millions of products sold by Apple, Google, Dell, Microsoft and Tesla every year. The insatiable demand for cobalt, driven by desire for cheap handheld technology, has tripled in the past five years and is expected to double again by the end of 2020. More than 60% of cobalt originates in DRC, one of the poorest and most unstable countries in the world.
The extraction of cobalt from DRC has been linked to human rights abuses, corruption, environmental destruction and child labour.
The lawsuit argues that Apple, Google, Dell, Microsoft and Tesla all aided and abetted the mining companies that profited from the labour of children who were forced to work in dangerous conditions – conditions that ultimately led to death and serious injury.
Buy Book The Vatican Exposed: Money, Murder, and the Mafia
The families argue in the claim that their children were working illegally at mines owned by UK mining company Glencore. The court papers allege that cobalt from the Glencore-owned mines is sold to Umicore, a Brussels-based metal and mining trader, which then sells battery-grade cobalt to Apple, Google, Tesla, Microsoft and Dell.
Other plaintiffs in the court documents say they worked at mines owned by Zhejiang Huayou Cobalt, a major Chinese cobalt firm, which the lawsuit claims supplies Apple, Dell, and Microsoft and is likely to supply the other defendants.
In the court documents, the Congolese families describe how their children were driven by extreme poverty to seek work in large mining sites, where they claim they were paid as little as $2 (£1.50) a day for backbreaking and dangerous work digging for cobalt rocks with primitive tools in dark, underground tunnels.
The families claim that some of the children were killed in tunnel collapses while others were paralysed or suffered life-changing injuries from accidents.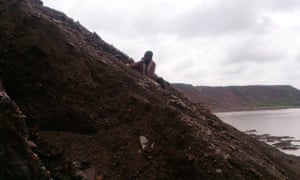 One plaintiff – named Jane Doe 1 – says in the court papers that her nephew was forced to seek work in the cobalt mines when he was a small child after the family could not continue to pay his $6 monthly school fee. The lawsuit claims that in April last year he was working in a mine operated by Kamoto Copper Company, which is owned and controlled by Glencore. He was working underground in a tunnel, digging for cobalt rocks, when the tunnel collapsed and he was buried alive. His family say they have never recovered his body.
This is—for the first time—the full and unedited story behind the sick life and mysterious death of Jeffrey Epstein that is being called one of the most significant scandals in American history
Another child, referred to as John Doe 1, says that he started working in the mines when he was nine. The lawsuit claims that earlier this year, he was working as a human mule for Kamoto Copper Company, carrying bags of cobalt rocks for $0.75 a day, when he fell into a tunnel. After he was dragged out of the tunnel by fellow workers, he says he was left alone on the ground at the mining site until his parents heard about the accident and arrived to help him. He is now paralysed from the chest down and will never walk again.
Other families included in the claim say that their children were killed in tunnel collapses or suffered serious injuries such as smashed limbs and broken spines while crawling through tunnels or carrying heavy loads. The families say that none were paid any compensation for the deaths and injuries.
One of the central allegations in the lawsuit is that Apple, Google, Dell, Microsoft and Tesla were aware and had "specific knowledge" that the cobalt they use in their products is linked to child labour performed in hazardous conditions, and were complicit in the forced labour of the children.
The families argue in the court papers that all companies named as defendants entered into commercial "ventures" with the mining companies operating in DRC, and all gained significant financial advantages from the widespread illegal mining of cobalt by children, which continues to enter global supply chains.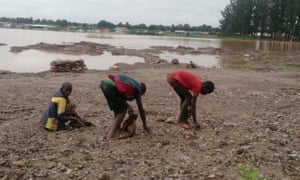 The court papers claim that Apple, Dell, Microsoft, Google and Tesla all have the authority and resources to supervise and regulate their cobalt supply chains and that their inability to do so contributed to the deaths and injuries suffered by their clients.
A spokesperson for Glencore said: "Glencore notes the allegations contained in a US lawsuit filed on 15th December 2019.
"Glencore supports and respects human rights in a manner consistent with the universal declaration of human rights.
"Glencore's production of cobalt in the DRC is a by-product of our industrial copper production. Glencore's operations in the DRC do not purchase or process any artisanally mined ore.
"Glencore does not tolerate any form of child, forced, or compulsory labour."
Apple said: "Apple is deeply committed to the responsible sourcing of materials that go into our products. We've led the industry by establishing the strictest standards for our suppliers and are constantly working to raise the bar for ourselves, and the industry.
"In 2014, we were the first to start mapping our cobalt supply chain to the mine level and since 2016, we have published a full list of our identified cobalt refiners every year, 100% of which are participating in independent third party audits. If a refiner is unable or unwilling to meet our standards, they will be removed from our supply chain. We've removed six cobalt refiners in 2019."
Buy Vitalizer Plus Hexagonal Oxygen Water Maker W/ 2 Mineral Cubes [Infuses Monoatomic Minerals in Water]
Dell said: "Dell Technologies is committed to the responsible sourcing of minerals, which includes upholding the human rights of workers at any tier of our supply chain and treating them with dignity and respect.
"We have never knowingly sourced operations using any form of involuntary labor, fraudulent recruiting practices or child labor. We work with suppliers to manage their sourcing programs responsibly. Any supplier with reports of misconduct is investigated and, if misconduct is found, removed from our supply chain.
"We're currently investigating these allegations, and have informed the Responsible Minerals Initiative as part of their grievance mechanism."
Microsoft did not respond to a request for comment, but a spokesperson told the Daily Telegraph: "If there is questionable behaviour or possible violation by one of our suppliers, we investigate and take action."
Huayou, Google and Tesla have also been approached for comment.
America faces an epic choice…
… in the coming year, and the results will define the country for a generation. These are perilous times. Over the last three years, much of what the Guardian holds dear has been threatened – democracy, civility, truth. This US administration is establishing new norms of behaviour. Rampant disinformation, partisan news sources and social media's tsunami of fake news is no basis on which to inform the American public in 2020. Truth is being chased away. But the Guardian is determined to keep it center stage.
More readers in the US than ever before are reading and supporting the Guardian's independent, fact-based journalism. We now have supporters in every state in America. The need for a robust press has never been greater, and with your generous help we can continue to provide reporting that offers public scrutiny and oversight. And, together, we can help the truth triumph in 2020.
"America is at a tipping point, finely balanced between truth and lies, hope and hate, civility and nastiness. Many vital aspects of American public life are in play – the Supreme Court, abortion rights, climate policy, wealth inequality, Big Tech and much more. The stakes could hardly be higher. As that choice nears, the Guardian, as it has done for 200 years, and with your continued support, will continue to argue for the values we hold dear – facts, science, diversity, equality and fairness." – US editor, John Mulholland
On the occasion of its 100th birthday in 1921 the editor of the Guardian said, "Perhaps the chief virtue of a newspaper is its independence. It should have a soul of its own." That is more true than ever. Freed from the influence of an owner or shareholders, the Guardian's robust editorial independence is our unique driving force and guiding principle.
We also want to say a huge thank you to everyone who has supported the Guardian in 2019. You provide us with the motivation and financial support to keep doing what we do. We hope to surpass our goal by early January. Every contribution, big or small, will help us reach it. Make a year-end gift from as little as $1. Thank you.
found on Giza Death Star
Stillness in the Storm Editor: Why did we post this?
Corruption is endemic to our world. Organizations that gain the trust of the people misuse that trust and are rarely brought to justice. The people have a valid right to know of the activities of its public servants so as to dethrone them once malfeasance or wrongdoing has been identified. The preceding article highlights corruption within public service institutions, revealing a breach of trust with respect to their lawful mandate to occupy said office. It is critically important for the evolution of society that individuals become aware of corruption, so as to unite together and declare grievances in an effort to correct the situation. When those grievances aren't recognized by those in office, the people now have a valid right to remove the lawless individuals in these positions of power so as to restore law and order. All of this can only be possible individuals to gain awareness of the corruption at hand and begin the process of forming actions groups capable of issuing lawful rebukes. If done properly, the forces that oversee the realms of men will rally to support the people.
– Justin
Not sure how to make sense of this? Want to learn how to discern like a pro? Read this essential guide to discernment, analysis of claims, and understanding the truth in a world of deception: 4 Key Steps of Discernment – Advanced Truth-Seeking Tools.
---
Stillness in the Storm Editor's note: Did you find a spelling error or grammatical mistake? Send an email to corrections@stillnessinthestorm.com, with the error and suggested correction, along with the headline and url. Do you think this article needs an update? Or do you just have some feedback? Send us an email at sitsshow@gmail.com. Thank you for reading.
Source:
https://www.theguardian.com/global-development/2019/dec/16/apple-and-google-named-in-us-lawsuit-over-congolese-child-cobalt-mining-deaths