Body For Awareness Project: Your clothes, your body, your truth. On Sale Now.
(Zero Hedge) On Friday, we reported on the latest bizarre milestone in the "art" world, when a banana duct-taped to a wall sold for $120,000 at that excess-liquidity conclave of ultra rich and other wannabe poseurs known Art Basel Miami Beach. Worse, a second banana duct-taped to a wall also sold for $120,000. Yet even worse than that, a third banana duct-taped to a wall is expected to sell for $150,000 and so on.
Related Twitter Censorship Confirmed: "Shadow Banning" Is Now Written Into The Platform's New Terms
by Staff Writer, December 7th, 2019
Let them eat duct-taped bananas
– The US Federal Reserve, probably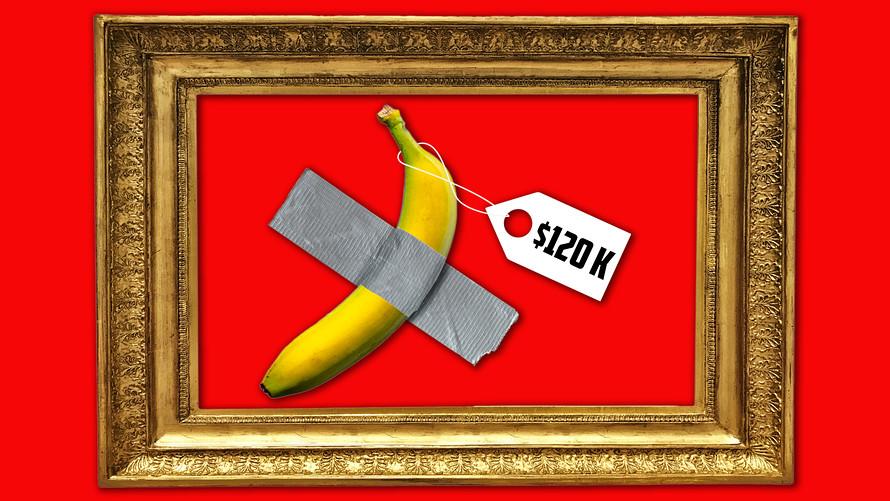 Then on Saturday, at around 1:45pm, the art world was shocked when a random man, allegedly a performance artist, ate said duct-taped banana that sold earlier this week for $120,000.
New York-based performance artist David Datuna ate the banana early on Saturday afternoon in front of a stunned convention full of "art" lovers most of whom had no idea whether they were witnessing even more "art", of just some clueless rando eating the world's most discussed "art" exhibit, the gallery told the Miami Herald.
This happened and here's the video: someone ripped the Maurizio Cattelan banana off the wall at @ArtBasel and ATE IT 🍌 pic.twitter.com/JOL41jLoeY

— JiaJia Fei 费嘉菁 (@VAJIAJIA) December 7, 2019
Perrotin Gallery spokesman Lucien Terras told the Herald that Datuna did not "destroy" the artwork because "the banana is the idea", or as Magritte would say "Ceci n'est pas une banane."
Buy Book Laughter Therapy: How to Laugh About Everything in Your Life That Isn't Really Funny
MASS ARRESTS: Nothing Can Stop What's Coming
Body For Awareness Project: Your clothes, your body, your truth. On Sale Now.
The controversial piece, called "The Comedian," was created by Maurizio Cattelan, an Italian artist who had also entertained art lovers from around the globe in 2017 with his "America" 18-carat-gold toilet. The $6-million throne was stolen from England's Blenheim Palace over the summer according to CBS.
Emmanuel Perrotin, the gallery founder, told CBS News that Maurizio's work is not just about objects, but about how objects move through the world.
"Whether affixed to the wall of an art fair booth or displayed on the cover of the New York Post, his work forces us to question how value is placed on material goods," he said, although he could have also added "or eaten."
He added that "the spectacle is as much a part of the work as the banana."
Perrotin was about to head to the airport when he heard about the banana being eaten and rushed back, according to the Herald. An attendee tried to cheer him up by handing him a banana. A borrowed replacement banana was eventually re-adhered to the wall, because "art."
Buy Book An Epidemic of Absence: A New Way of Understanding Allergies and Autoimmune Diseases
Third Eye (Healing Tonic): Pineal Gland Decalcifier, Powerful Nootropic, Supports Pineal Function, Melatonin Regulation, Dream Activation, (Handcrafted in small batches) the perfect blend of mushrooms and herbs made from scratch! Use Promo Code SITS20 for 20% discount on this and other products in your order. Third Eye, on Sale NOW!
Whereas the "art" world was briefly outraged after the 120,000 rotting banana was calmly eaten, unaware that they themselves were the joke, normals argued this piece is a perfect representation of what the art world has become with its gaping wealth inequalities and where idiotic "art" such as a banana duct taped to a wall sells for $120,000. Others, however, chose not to go as deep and appreciate the simplicity of the art piece. Yet others blamed the Fed for flooding the world with so much money that a banana duct taped to a wall was actually bought by someone for $120,000.
The artist first came up with the idea a year ago. He "was thinking of a sculpture that was shaped like a banana," according to a press statement from Perrotin.
"Every time he traveled, he brought a banana with him and hung it in his hotel room to find inspiration. He made several models: first in resin, then in bronze and in painted bronze (before) finally coming back to the initial idea of a real banana."
The artist reported no clear instructions for buyers on whether the bananas start to decompose.
As for Datuna, who calmly ate the banana in front of a room full of shocked "art" fans before he was confronted by an art gallery worker, his parting words were "see you after jail, guys."
"Are you kidding me?"
"It's performance."
"It's absolutely not performance."
…
"See you after jail, guys!" pic.twitter.com/BHsCtNLki2

— JiaJia Fei 费嘉菁 (@VAJIAJIA) December 7, 2019
Buy Book Testosterone Boosting Cookbook: 25 Recipes that can boost your testosterone for life
Heal your Aura. Cleanse your energy. Defend against toxic EMF. Beautiful and effective! Get yours today!
Stillness in the Storm Editor: Why did we post this?
The news is important to all people because it is where we come to know new things about the world, which leads to the development of more life goals that lead to life wisdom. The news also serves as a social connection tool, as we tend to relate to those who know about and believe the things we do. With the power of an open truth-seeking mind in hand, the individual can grow wise and the collective can prosper.
– Justin
Not sure how to make sense of this? Want to learn how to discern like a pro? Read this essential guide to discernment, analysis of claims, and understanding the truth in a world of deception: 4 Key Steps of Discernment – Advanced Truth-Seeking Tools.
---
Stillness in the Storm Editor's note: Did you find a spelling error or grammar mistake? Send an email to corrections@stillnessinthestorm.com, with the error and suggested correction, along with the headline and url. Do you think this article needs an update? Or do you just have some feedback? Send us an email at sitsshow@gmail.com. Thank you for reading.
Source:
https://www.zerohedge.com/economics/see-you-after-jail-guys-art-world-stunned-after-man-eats-120000-banana-duct-taped-wall