TMR Editor's Note: The distinct geoengineering pattern of manufacturing superstorms has been well established many years ago.  First grab a naturally created Tropical Storm and amp it up into a Cat 5.  Then direct it into a chosen area where the fear-mongering and engineered chaos will best serve the NWO agenda of the power elite.
Related Ritualistic Astrology Used in False Flag Hurricane Harvey?
Make no mistake about it, this Fall is destined to see blockbuster after blockbuster.  And we don't mean Hollywood releases.  For example: The October SURPRISE of 2018 to be Preceded by a September SHOCK & AWE!
Then there is the ongoing election rigging that's inexorably taking place below the radar.  There's no better way for Deep State to implement that covert scheme than to distract everyone concerned from the scene of the crime.  Yes, election theft is a crime, as is voter fraud.  Clearly, the 2018 midterms will be the most stolen in U.S. electoral history. See: Something Wicked This Way Comes…Between Now And Election Day
Bottom Line: Things are about to get very interesting indeed!  The unparalleled convergence of powerful forces and array of combustible conflicts are more numerous than ever.  It's as though everything has been set up for this very moment so that a much-needed resolution can take place.
The Millennium Report
September 9, 2018
Buy Book Chemtrails, HAARP, and the Full Spectrum Dominance of Planet Earth
---
Florence Forecast To Become A Major Hurricane; Risk To The East Coast Is Rising
SHANNON VAN SANT
NPR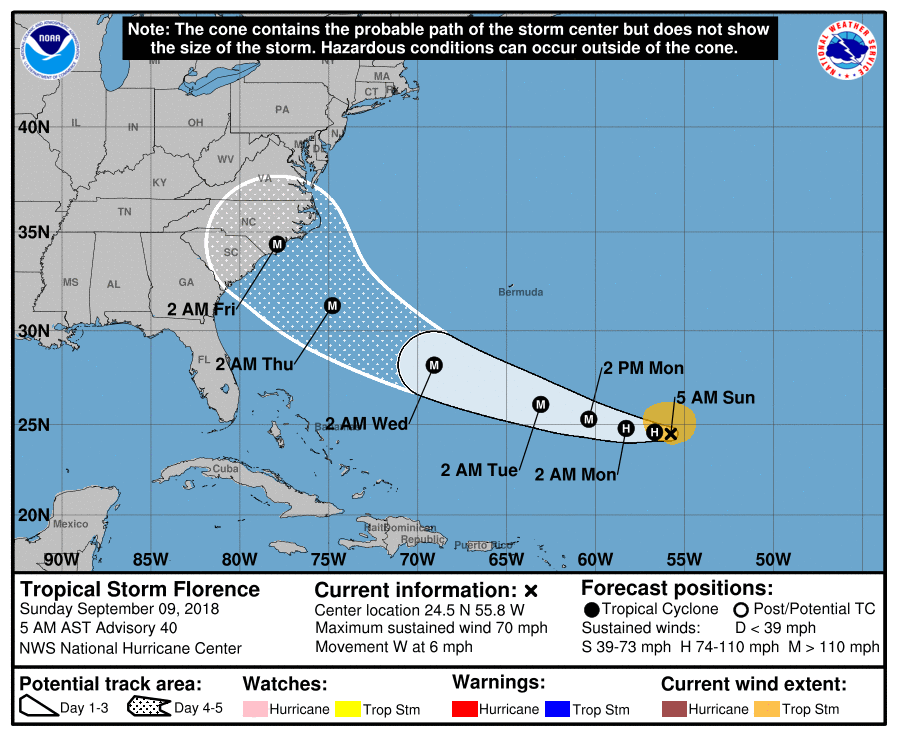 Tropical Storm Florence is quickly approaching the eastern United States, and according to the National Hurricane Center, the storm's threat to the East Coast keeps rising. The storm is traveling over warm water; it is expected to increase its speed, and become a hurricane by Saturday night.
The National Hurricane Center forecasts Florence will be a dangerous major hurricane near the southeastern U.S. coast by late next week, "and the risk of direct impacts continues to increase."
"However, given the uncertainty in track and intensity forecasts at those time ranges," the National Hurricane Center tweeted, "it's too soon to determine the exact timing, location, and magnitude of those impacts."
Here are the 11 AM EDT Key Messages on #Florence https://t.co/tW4KeGdBFb pic.twitter.com/L5VdT2Ueh3

— National Hurricane Center (@NHC_Atlantic) September 8, 2018
Buy Book No Natural Weather: Introduction to Geoengineering 101
On Friday, North Carolina declared a state of emergency. North Carolina Highway Patrol Sgt. Chris Knox told NPR, "This allows our farmers to gather their crops, and get these crops out ahead of the storm. It allows utilities to come in. A lot of these things that we know we need to start doing ahead of time."
Knox said residents in North Carolina should begin preparing, "When we put those orders out, when we tell people, 'this is a flood-prone area,' that you need to find somewhere else to go, don't roll the dice. We want people to heed the warnings that we are putting out."
South Carolina declared a state of emergency on Saturday. The state Emergency Management Division said residents should begin preparing their homes and property for the storm. Florence's immediate threat for residents includes large ocean swells, dangerous rip currents and coastal flooding.
Latest on #Florence & #ncwx
• May affect NC/SC Wed – Friday
• Potential impacts likely
• Damaging winds may hit coast Wed.
• Heavy rain (3-7") expected in eastern NC.
• Strong rip currents this weekend
• Erosion / overwash possible at OBX starting Sunday
Stay tuned pic.twitter.com/j6mVAApNMk

— NC Emergency Managem (@NCEmergency) September 8, 2018
By Saturday evening, Florence was located 810 miles southeast of Bermuda, and had winds of 70 mph. The storm is moving west at 5 mph. Meteorologists expect the tropical storm to evolve into a major hurricane by Tuesday night.
"Our emergency operations center will start up early next week," Knox said, "Because we know that a storm of potentially this size, and potentially of this impact, we as a state need to be in place, on the ground, and ready to help the people of North Carolina."
According to The Washington Post, if Florence hits the U.S. East Coast, it will be the first to do so for a storm in its present location.
Meanwhile, over the Pacific Ocean, Hurricane Olivia is approaching Hawaii with maximum winds of 85 mph. As of Saturday evening, the hurricane was 1,190 miles east of Honolulu. It is expected to approach the Hawaiian Islands as a tropical storm by early next week, becoming the third tropical weather system to affect the islands this year.
___
https://www.npr.org/2018/09/08/645891482/florence-forecast-to-become-a-major-hurricane-and-risk-to-the-east-coast-is-risi
---
Stillness in the Storm Editor's note: Did you find a spelling error or grammar mistake? Send an email to [email protected], with the error and suggested correction, along with the headline and url. Do you think this article needs an update? Or do you just have some feedback? Send us an email at [email protected]. Thank you for reading.
Source:
http://themillenniumreport.com/2018/09/here-comes-flo-will-the-geoengineers-hijack-tropical-storm-florence-before-intensifying-the-hurricane-and-directing-its-into-a-targeted-coastline/
(Visited 691 times, 3 visits today)