by Christine Hirlehey, 
There was an episode of Star Trek: the Next Generation called "Cause and Effect." In this episode, the Enterprise was caught in a time loop in which the ship was destroyed, and then time would repeat from the beginning of the loop. The android officer, Lieutenant Data, was able to send a message to himself into the next loop. The message he sent to himself was the number 3 that was repeated over and over again. It first appeared several times in a poker game, and it continued to appear in many other areas of ship operation. The number 3 was a message to himself that told him whose recommendation was correct. With this information, he was able to save the ship, thus escaping from the time loop.
We may sometimes get messages in the form of numbers as well. These messages do not come from ourselves in a time loop but are said to come from our angels. They work in a similar way, however. We will see the same number repeated over and over again throughout our day or over several days. They might come from a license plate, a digital clock, a ticket at the deli counter, or the number of the invoice on a bill. They could come from almost anywhere. If this happens to you, your angels may want to tell you something. These are known as angel numbers.
Buy Book Angel Numbers 101: The Meaning of 111, 123, 444, and Other Number Sequences
What Do the Angel Numbers Mean?
Usually angel numbers come in the form of triple or quadruple number combinations, such as 111, 222, 333, 1111, or 1234. Different number combinations mean different things. Some common number combinations are:
000 – The meaning of 000 is similar to the meaning of the Fool in the Tarot. You may be about to embark an adventure into the unknown.
111 – Seeing the number 111 is often the sign that you are undergoing a spiritual awakening.
222 – If the number 222 repeats, this may mean that you are facing a difficult situation or that you need to be open to another to receive advice or love.
333 – The number 333 might mean that you are ready to proceed along your life's purpose.
444 – When 444 repeats, this often is a sign that the angels want you to know that they are with you and helping you.
555 – 555 may indicate that your angels are asking you to look out for new opportunities or to be more observant to our surroundings.
666 – If you see the number 666, do not worry, this is not the sign of the Devil. It may be a sign from your angels, however, that you need to let go of a fear, addition, or unhealthy attachment.
Buy Book Mysteries and Secrets of Numerology
777 – Seeing 777 can be an indication that something truly magical is on its way that will transform you.
888 – The number 888 may mean that a new love is coming into your life or that it is time to claim your power or reinvent yourself.
999 – If the number 999 repeats, your angels may be suggesting that you expand your horizons, travel, or embark on a new course of study.
1111 – When the number 1111 appears, it may be time to make a wish. The time may be right to embark on a course of self-actualization or find your Inner Truth.
Where Do the Meanings of the Angel Numbers Come From?
You may be wondering where those meanings come from. They are actually consistent with accepted interpretation of these numbers in the discipline of numerology.
The modern practice of numerology springs out of a deep tradition. In metaphysical studies, it is said that there were numbers before there were things to be numbered. Even modern scientists will say that math is the language of the cosmos.
Some of the most basic mathematical principles that we use today come from the study of the mystical qualities of numbers and the discipline of Sacred Geometry in Ancient Greece. Pythagoras, the discoverer of the famous Pythagorean Theory, was the founder of a religious movement known as Pythagoreanism, and his studies of geometry were intertwined with his mystical beliefs.
Numerology and Sacred Geometry also form part of the basis for astrology. Many considerations in astrology, such as the meanings of zodiac signs and the compatibility and relationships between the signs are based at least in part on the deeper meanings of numbers. Even the Jewish mystical tradition includes a discipline known as gematria, which is a form of numerology.
Buy Book Gematria: The Numbers Of Infinity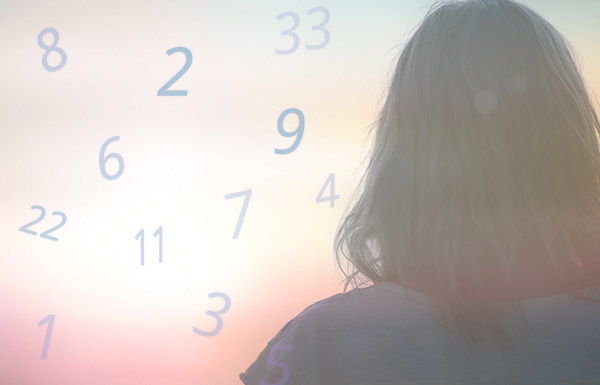 Who Are Our Angels and Why Would They Speak Through Numbers?
Many spiritual traditions teach that there are Divine beneficial beings that help us in our life on earth. In Ancient Greece, they were called good daemons or diamons, which were beneficial lesser deities. In the Hindu tradition, they are known as devas, and in the Japanese Shinto tradition, they are known as kamisama. In the Judeo-Christian tradition, they are usually referred to as angels. These beings are said to watch over us and guide us.
In the modern world, such teachings are sometimes thought of as quaint or superstitious. On the other hand, almost everyone can think of a time when they happened to be at the right place at the right time or when they were saved from disaster by what seemed like chance. While these events may seem to be mere coincidence, they may also be the work of our angels.
These days, it is hard for many of us to connect with the spiritual world. We are bombarded with messages from early childhood that teach us to believe that the material world is all that is. Because of this, it can be hard for our angels to reach us. We may not pay attention to vague internal feelings, but numbers that repeat over and over are difficult to ignore or set aside. We may see angel numbers when we need reassurance, guidance, or to change directions.
So, if you start seeing numbers repeating over and over during the course of your day, you might want to take notice. It may be that your angels are trying to get your attention.
The preceding is a Stillness in the Storm original creation. Please share freely. 
Like our work? Support this site with a contribution via Paypal, cryptocurrencies, or Patreon.

This article appeared first on Stillness in the Storm. 
This article (Number Synchronicities — What Are They and How Do They Work?) originally appeared on StillnessintheStorm.com and is free and open source. You have permission to share or republish this article in full so long as attribution to the author and stillnessinthestorm.com are provided. If you spot a typo, email corrections@stillnessinthestorm.com.
---
Stillness in the Storm Editor's note: Did you find a spelling error or grammar mistake? Send an email to corrections@stillnessinthestorm.com, with the error and suggested correction, along with the headline and url. Do you think this article needs an update? Or do you just have some feedback? Send us an email at sitsshow@gmail.com. Thank you for reading.
Source: