See previous updates here.
The globalists continued their pattern of pressing the delay button on their 2015 agenda today, but one major US-related element remains: the potential government shutdown at the end of this month. Given that the Fed delayed their rate hike, the possibility of a shutdown seems more remote, but it remains a possibility to be watched…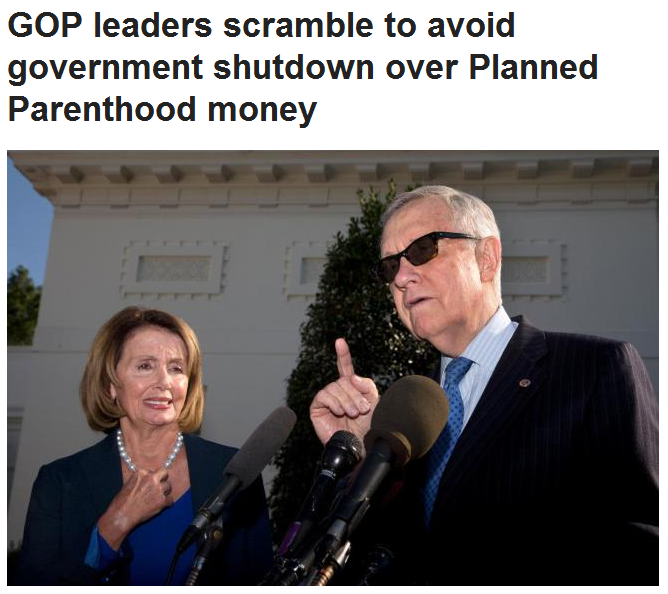 …From 
U.S.News
"House Republican leaders scrambled on Thursday to head off a politically damaging government shutdown in two weeks over rebellious conservatives' demand that any stopgap spending bill block federal funds for Planned Parenthood…
Boehner's clear but unstated preference is to pass a temporary funding bill that's free of the Planned Parenthood controversy. Democrats are sure to filibuster any bill defunding Planned Parenthood should it come to a vote in the Senate, and Obama has promised a veto regardless."
If we look at the Congressional calendar, we see that after Friday, the first day both chambers of Congress will be in session to work out any possible spending measure will be on September 24, the day the Pope speaks to them
…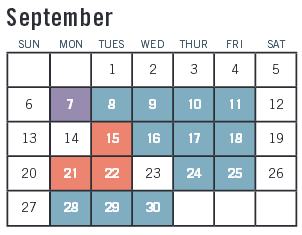 …(Source: klgates.com – red means only the Senate is in session; blue means both the Senate and House are in session)
This raises a few obvious questions…
Will Obama's disrespect of the Pope enrage conservative Republicans and spur them to dig in their heels and stop any budget deal that includes Planned Parenthood funding?
When the Pope leaves the US on September 27, will he leave behind a corpse that will start smelling on October 1?
Oh, the drama! 

(P.S. – 17 September 2015)
Here is a very observant comment from a reader concerning the Fed rate hike…
"I have been reading your blog for a while now and… I thought your take on this week's fed meeting was spot on, but something kept nagging at me. Why would the Fed trip a panic BEFORE the Pope passes God's judgement on America? The economic downfall has to be seen as a consequence of America's evils. Then they hit delay again today, so I looked at the next FOMC meeting – October 28th. Then I checked the end of the rugby world cup – October 31st. Plenty of time to drum up a lot more warnings to the Fed and still have the market collapse fall under the shadow of the world cup. This also allows for whatever condemnations the Pope has in store to be delivered first. Just something I noticed, you probably did too!"
Well, dear reader, I probably would have noticed it… tomorrow. 
 I have to say that I'm thrilled when my readers can beat me to the punch on something like this (it saves me extra mental work)…
For the previous updates from this series, click 
here
.
Love always…
_________


Source:

(Visited 52 times, 2 visits today)