An interesting post discussing how there are several legal agreements already in place to recognize the human rights of Extraterrestrial life. Before that article, I will provide some points to suggest these legal systems are inherently dishonorable, and fail to follow the very statements they are codified to represent. 
Dr. Salla details some of the points within the below article. 
The legal side of our so called 'justice system' is a major honey trap for the mind because the true nature of Law, how it relates to reality, and the principles of free will are rarely acknowledged honestly. Legal has become associated with lawful and there is a very precise difference between the two. Dr.Salla accurately suggests this by saying if ET's landed in New York, they may be subject to certain legalities, but the inherent rights can either be recognized or not – they exist regardless. A legal code is a procedure of operation, how to do things, after trust has been established and agreement is in place. Legal codes imposed, on anyone or anything, without establishing trust, is  a failure of law, and a violation of one's rights; even if no physical harm has been done. 

For a detailed explanation of the difference between legal and lawful see these articles. 
USA, Inc. Committed Massive Identity Theft | Trust Law Understood – Open Letter to U.S. Treasury Secretary Lew — from Anna von Reitz

(Natural Law is the basis for Contract Law and Legal codes) An Overview of the ITNJ
The Sphere beings recognize Natural law and the inherent right to choose, that our free will must be honored and considered when taking actions that might affect others. Anyone who does not recognize freewill and provide for honorable agreements based on trust, reveals either a nefarious intention or lack of moral maturity. If ET races have made treaties with various government or quasi government agencies to abrogate the rights of people and or animals, then they are by their own actions are immoral. And we who are seeking to discern whether a group or race is honest and true to their word, should recognize this. A treaty affecting someone without their knowing consent is a fraud at its creation, and if left unchecked will create chaos and violence.
For example, on earth we have actually made slavery legal: Legalized Slavery: The 13th and 14th Amendment Hoax – Judge Anna von Reitz Exposes the Fraudulent Congress
Without getting into a deep analysis of all this, legal policies which presume our consent, acting without ensuring we have agreed, are unjust and tyrannical. Because consent is not provided honorably, by a knowing explicit statement, it is inherently deceptive and dishonorable. 
Related How the Cabal Maintains Their Power And What You Need To Do To Stop It – Un-Consent | Beyond BRICS: Exposing the Rats


Related The Underworld Death Dealing Practices Of The Elite | Birth, Marriage and Death Estate Are Seized and Traded By The Government
The article below helps provide some contextual differences between how the Sphere Beings operate (recognition of Natural Law) and how Cabal run systems operate (deceptive and nefarious). Clearly treaties with other races that allow human beings to be taken against their will are unlawful, and this extends to the treatment of all life, not just human beings. We need not be of high density status to develop a society and social structure based on honor, truth and integrity. I think these principles are the core ideals which will help us transition away from the madness of the past, into the golden age of the future. 
– Justin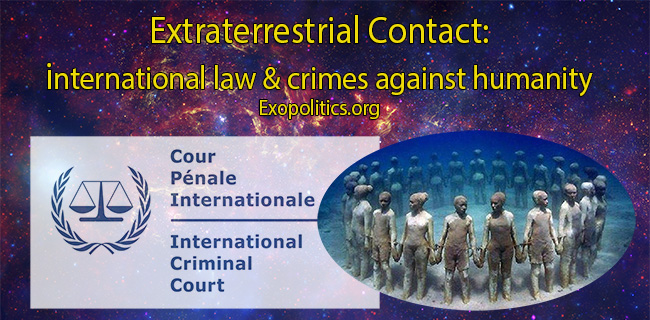 On June 15, a legal scholar released a provocative article in 
Space Review
 analyzing international legal norms and rights that would apply to visiting extraterrestrial life. The 
Space Review
 article comes less than a month after a bill (
The Space Act
) was passed by the U.S. House of Representatives dealing with U.S. and international law as it applies to commercial activities in space.  "
Legal implications of an encounter 
with extraterrestrial intelligence" is a very timely article due to international efforts to update commercial space laws, especially as it is becoming more likely than ever that eventually extraterrestrial life or artifacts will be encountered by national space programs – if they haven't been already!
The Space Review article helps identify key issues about how to regard commercial activities in space that result from agreements with extraterrestrial life. In the case that some of these agreements violate international legal norms, then would this make such agreements valid or invalid? This is especially important since there have been testimonies by whistleblowers claiming that agreements have already been reached with alien visitors in secret space programs that allegedly involve crimes against humanity.
The author of "Legal implications of an encounter with extraterrestrial intelligence," Babak Hassanabadi says that one of the first legal issues to resolve is whether extraterrestrials have the same "human rights" as the rest of us. 
He writes
:
In a world first, a court in Argentina issued a historic and unprecedented ruling that favors the rights of an orangutan held in captivity. Sandra the orangutan was granted legal action so she may be transferred to a habitat in keeping with her development…. These developments with regard to assigning human-like rights for terrestrial nonhuman animals leaves no doubt for inferring that extraterrestrial intelligent life forms, at least in terrestrial legal systems' point of view, will enjoy rights equal to their human counterparts.
Hassanabadi's point is a fair one. If humanity is prepared to recognize an orangutan as having human rights, then we would do the same for extraterrestrials, even if they looked like Chewbacca, the Wookie from Star Wars.
Although it seems very unlikely that technologically advanced aliens would recognize the political boundaries of our nation-states, if a spacecraft with aliens onboard landed anywhere on Earth, and they do not carry any political mission to make contact with humans, legally speaking they would be subject to the territorial jurisdiction in which they have entered unless otherwise collectively agreed upon by the international legal community.
If extraterrestrials land in New York City for example, then the laws of the Empire State and U.S. Federal laws would apply. In 1969, NASA passed a federal regulation dealing with 'Extra-terrestrial Exposure'. The
"Extraterrestrial Exposure Law" 
offers a legal precedent for the detention and indefinite imprisonment of any individual who comes into contact with extraterrestrials. Presumably
extraterrestrials
themselves could also be detained and quarantined under this little known NASA regulation that while officially withdrawn, 
created a legal precedent
 for its future use. May the Force be with any law enforcement officer trying to quarantine a Wookie.
The best approach would be to assign the aliens the same legal rights that foreign diplomats enjoy while they are on mission in foreign countries. That is, if
extraterrestrials
come to Earth in small or large numbers and reside temporarily or permanently, their laws and traditions among themselves should remain out of human legal intervention and judgment.
Basically, we would treat extraterrestrial visitors like the New York City authorities treat foreign diplomats. They have immunity from prosecution if they misbehave, but can be expelled for major crimes. Mayor Bill de Blasio stands an impressive 6' 5" (196 cm) so an alien Wookie might do as he's told if he was asked to leave.
Who would conduct negotiations with extraterrestrials? After examining a number of international protocols and treaties, 
Hassanabadi concludes 
the logical choice is the United Nations and its Secretary General:
To be certain, any negotiation with extraterrestrial intelligent life forms will be the most urgent global challenge of human history and no institution other than the United Nations (including its specialized organs) is more legitimate and accepted by consensus to take the lead in representing the human civilization…. we can conclude that from the point of view of international law that the UN Secretary General is the best candidate to sit at the negotiation table with extraterrestrial intelligent life forms if we meet them here on our planet.
Fortunately, the United Nations Headquarters is in New York City, so Bill de Blasio would be on hand if a Wookie tried to intimidate Ban Ki-moon who stands a mere 5' 8" (175 cm).
Hassanabadi raises a critical observation about any agreements reached with alien visitors:
[I]f aliens travel to Earth to conclude any kind of pact, treaty, or agreement on behalf of their civilization with human civilization in general or—very unlikely but not impossible—with single nation-states on Earth, then existing international law shall prevail. In other words, the provisions of Vienna Convention about the law of treaties along with the principles of the charter of United Nations ought to be observed by human signatories of such interplanetary legal document. Here again, the diplomatic rights of the alien negotiating team should be upheld by their human political counterparts.
For most of the general public, such a point seems obvious and is no great cause for concern given the widespread view that we have yet to make contact with extraterrestrial life. Future agreements would presumably be done under the close scrutiny of a world public and media transfixed by the possibilities of humanity joining galactic society.
According to 
many whistleblowers
, however, secret agreements have already been reached with extraterrestrial visitors. Surely such secret agreements would be null and void if they weren't announced or ratified by national legislatures one might protest.  Not so according to Hassanabadi's legal analysis. Even agreements signed in secret between duly appointed national representatives without completion of the full ratification process – these are called 
'Executive Agreements'
 – are valid under international law due to the "Vienna Convention about the law of treaties."
A possibility that Hassanabadi didn't examine is what happens if these secret agreements with aliens violate international law? What if there are future, or even past, agreements where humans are secretly taken away in an off-world slave trade? After all, during the 18th and 19th centuries, there were many agreements between colonial powers and local African elites that were accepted as valid under international commercial law at the time that made the slave trade possible. Could something analogous happen or be happening in space where secret commercial space laws make it possible for a form of galactic human slave trade to happen?
Dan Sherman worked for the US Air Force and the National Security Agency as an electronic communications expert for 12 years. 
He says
 he discovered agreements had been reached with aliens who were abducting people and taking them into space and reporting back to the NSA. Niara Terela Isley is a former US Air Force radar tracking operator 
who reveals
 that she was taken between eight and ten times to a moon base by a secret space program operating from the vicinity of Area 51 where she was briefly assigned. She claims the moon base was guarded by Reptilian beings that used human workers in slave labor conditions. 
Corey Goode claims 
to have served in a secret space program for 20 years. He says he witnessed and was briefed about humans being forced to work as slave labor in secret corporate bases on Mars, and even being sold off to aliens in other solar systems in a 
galactic slave trade
.
Slavery is recognized as a "crime against humanity" and identified as such in a number of international treaties such as the
 Rome Statute 
that led to the creation of the International Criminal Court (ICC) in 2002. Here's what the 
ICC has to say
 about slavery as a crime against humanity:
READ MORE by Dr. Michael Salla @ exopolitics.org
_________


Source:




http://exopolitics.org/extraterrestrial-contact-international-law-crimes-against-humanity/