Source – Removing the Shackles


The lovely Sol is dancing a tango again.  For the past week we've seen elevated levels of flares, leading up to yesterdays set of exciting set of boogie woogie disco moves.

In the past 48 hours we had 3 major flares- two from spot 1944- an M 7.2 and an X 1.2, and a parting shot from 1947 of M3.2 as it rotated off the western limb.  The Xflare by 1944 – which is Beta Gamma Delta- was interactive with 1946 right above it (Beta Gamma).  The X Class and M7.2 were both directly Earth facing and geoeffective.  1944 has also been spouting off constant C Class flares for the past 24 hours.

Yesterday saw a radiation storm above moderate levels and we are expecting the incoming CME to arrive tonight/tomorrow with a good chance of a geomagnetic storm between the 9th and 10th.  We saw the arrival of an earlier CME with a glancing blow to Earth on Tuesday.

NOAA is giving a risk 80% of M Class and 50% of X Class flares for today…. I'm going to go out on a limb and say that I give it 100% chance of an MClass flare today from 1944/6, and I expect we'll see 1946 evolve into Beta Gamma Delta in the next 24-48 hours as well.  We also have a good size Coronal Hole currently rotating into direct Earth View- the Solar Wind stream from that should reach earth Jan 12/13th.

Old spot 1928 is about to rotate back from the eastern limb- it hasn't been renumbered yet- and I'm keeping an eye on it, as it's looking rather grumpy from the current SDO view.

As usually, don't throw out your wireless electronics or cell phones- it's not their fault that they are confused today.  And mind your manners on the road…. road rage is always elevated during geomagnetic storms.  Be Yen!


Pictures from http://www.solarham.net/


XFlare
Current sun spot view and geomagnetic map
Coronal Hole View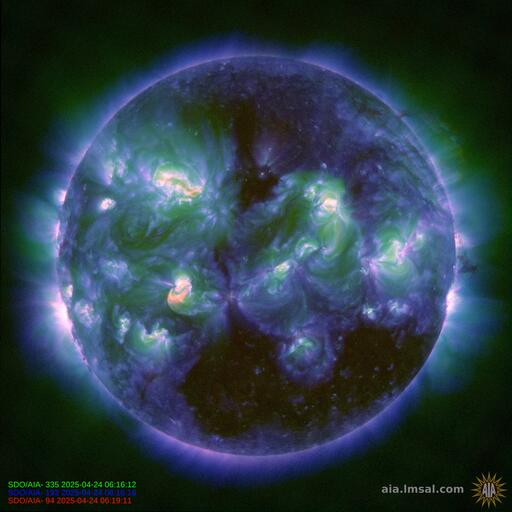 http://thewatchers.adorraeli.com/2014/01/07/major-solar-flare-measuring-x1-2-erupted-from-geoeffective-region-bright-cme-generated/

Geoeffective Active Region 1944 (beta-gamma-delta) erupted with major solar flare measuring X1.2 at 18:32 UTC today. The event started at 18:04, peaked at 18:32 and ended at 18:58 UTC. A Type II radio emission was registered at 18:17 UTC with estimated velocity of 1064 km/s. Type II emissions occur in association with eruptions on the sun and typically indicate a coronal mass ejection is associated with a flare event.
This huge active region is almost perfectly positioned for geoeffective events.
A bright coronal mass ejection (CME) was generated – high latitude sky watchers should be alert for auroras.
At 10:03 UTC today this same region erupted with strong M7.2 solar flare.
The geomagnetic field is expected to be at quiet to active levels on January 8, active to major storm levels on January 9 and unsettled to minor storm levels on January 10.
Forecasters estimate 80% chance for M-class, 50% chance for X-class and 99% chance for proton event in next 3 days (January 8 – 10).


Source:



http://removingtheshackles.blogspot.com/2014/01/solar-update-lights-camera-action.html
(Visited 613 times, 1 visits today)