This post goes well with Chemtrails creating Cyber Humans? You are stopping Diseases caused by Nano Particles now where we discuss some of the ways to deal with the steady stream of self replicating nanontechnology falling on us daily. 
– Justin
Morgellons disease is the popular name for an unexplained skin disorder characterized by disfiguring sores and crawling sensations on and under the skin. Morgellons disease also features fibers or solid materials emerging from these sores.


Researchers with the Centers for Disease Control and Prevention (CDC) have concluded that Morgellons disease, which they refer to as an unexplained dermopathy, isn't caused by an infection or parasites. Fibers found in the sores are usually wisps of cotton thread, probably coming from clothing or bandages.

CDC experts note that the signs and symptoms of Morgellons disease are very similar to those of a mental illness involving false beliefs about infestation by parasites (delusional parasitosis). The symtoms are as such: 
Skin rashes or sores that can cause intense itching
Crawling sensations on and under the skin, often compared to insects moving, stinging or biting
Fibers, threads or black stringy material in and on the skin
Severe fatigue
Difficulty concentrating
Short-term memory loss
I would like to place emphasis on three of the previously mentioned symptoms, the fibers/ filaments, difficulty concentrating, and the short term memory loss.
Source:
http://www.mayoclinic.com/health/morgellons-disease/sn00043
We will begin this journey with the exploration of "Chem Trail" or "Seeded Cloud" composition.
YOU ARE NOW BREATHING ETHYLENE DIBROMIDE, NANO-PARTICULATES OF ALUMINUM AND BARIUM AND CATIONIC POLYMER FIBERS WITH UNIDENTIFIED BIOACTIVE MATERIAL: "We the people have not been warned, advised or consulted but are certainly vulnerable to the outcomes." Lightwatcher.com "Biologic components have been reported in airborne samples that include: modified molds, desiccated red blood cells and exotic strains of bacteria"
Source:
http://chemtrailsplanet.net/2012/12/26/3598/
Here is a link to one of many pages openly promoting "Cloud Seeding" and it's many "benefits"
http://www.weathermodification.com/cloud-seeding.php
ETHYLENE DIBROMIDE:
Ethylene dibromide, also known as EDB, and 1,2-Dibromoethane, is a colorless, heavy synthetic organic liquid with a mildly sweet chloroform-like odor.
Exposure to ETHYLENE DIBROMIDE primarily occurs from its past use as an additive to leaded gasoline and as a fumigant. Ethylene dibromide is extremely toxic to humans. The chronic (long-term) effects of exposure to ethylene dibromide have not been well documented in humans. Animal studies indicate that chronic exposure to ethylene dibromide may result in toxic effects to the liver, kidney, and the testis, irrespective of the route of exposure. Limited data on men occupationally exposed to ethylene dibromide indicate that long-term exposure to ethylene dibromide can impair reproduction by damaging sperm cells in the testicles. Several animal studies indicate that long-term exposure to ethylene dibromideincreases the incidences of a variety of tumors in rats and mice in both sexes by all routes of exposure. EPA has classified ethylene dibromide as a Group B2, probable human carcinogen.
In summary: 
Ethylene Dibromide is incredibley toxic to humans
Poisons liver, kidneys and testis (decreasing fertility)
Probable carcinogen
Source: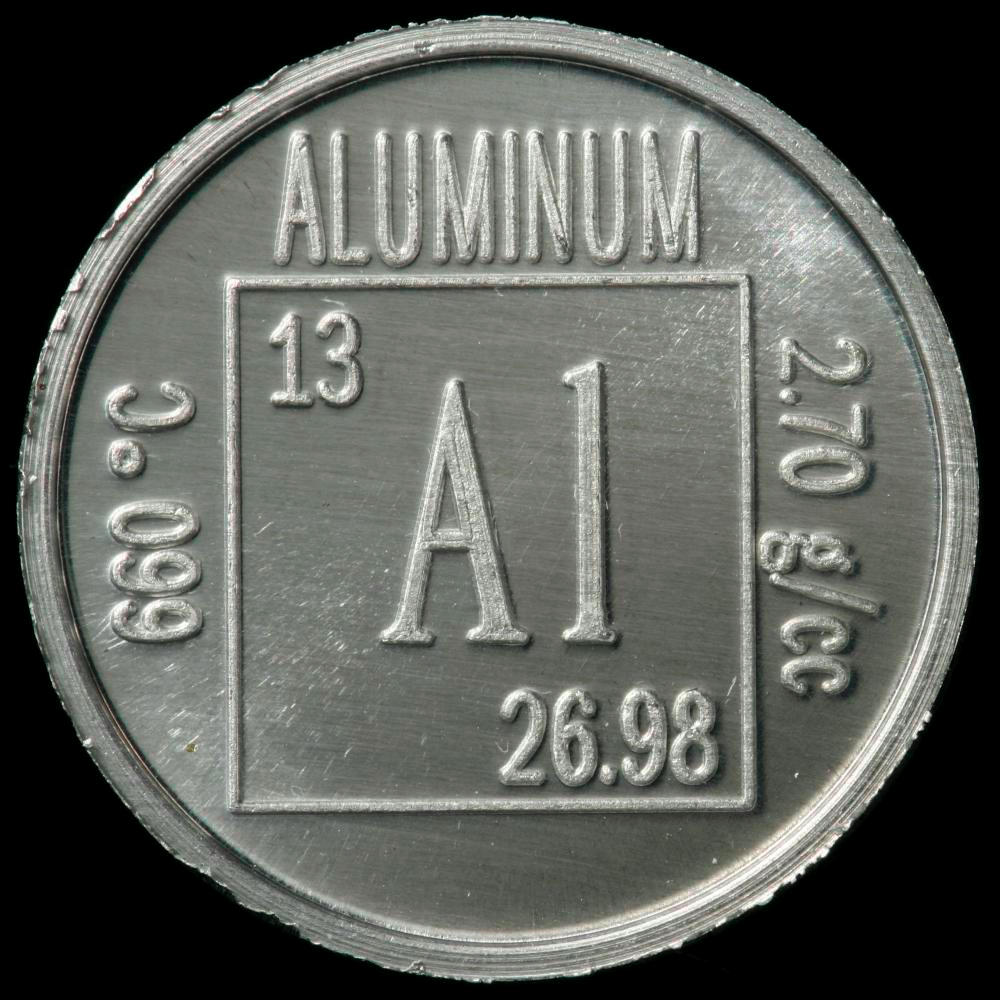 Just as
cigarette smoke
damages lung function and overexposure to UV rays will degrade your skin, aluminum is an attacker and its target is your central nervous system. Studies show that toxic metals contribute to brain diseases by producing oxidative stress and aluminum is one of the worst offenders.The prevailing belief around the world is that aluminum is linked to degenerative brain diseases such as Alzheimer's and Parkinson's.
According to Washington DC's Department of the Planet Earth, United States and Canadian regulatory agencies are interested in aluminum as a potential risk factor in elderly cognitive impairment. It makes sense, research shows aluminum can produce toxic, oxidative stress in the brain and a brain autopsy study of elderly persons found them to have aluminum levels 20+ times higher than a middle-aged group.The Agency for Toxic Substances and Disease Registry, part of the U.S. Department of Health and Human Services, recognizes aluminum as one of several metals known to affect the neurological system. As far as aluminum is concerned, the supreme brain-health concern is Alzheimer's disease.
In summary:
Exposure to large quantities of aluminum causes stress on brain
Stress can result in neurological disorders such as Alzheimers 
Source: 
http://www.globalhealingcenter.com/natural-health/concerned-about-aluminum-dangers/
BARIUM
There are a number of reports of serious health effects in individuals intentionally or accidentally exposed to barium carbonate or chloride. The predominant effect is hypokalemia, which can result in ventricular tachycardia, hypertension and/or hypotension, muscle weakness, and paralysis. Barium is a competitive potassium channel antagonist that blocks the passive efflux of intracellular potassium, resulting in a shift of potassium from extracellular to intracellular compartments. The net result of this shift is a significant decrease in the potassium concentration in the blood plasma. Although the case reports did not provide 
information on doses, it is likely that the doses were high. In addition to the effects associated with hypokalemia, gastrointestinal effects such as vomiting, abdominal cramps, and watery diarrhea are typically reported shortly after ingestion. Similar effects have been reported in cases of individuals exposed to very high concentrations of airborne barium; the effects include electrocardiogram (ECG) abnormalities, muscle weakness and paralysis, hypokalemia, and abdominal cramps, nausea, and vomiting. Until the 18th century farmers at
Anglezarke
used the mineral as rat poison.
1. Source: http://www.atsdr.cdc.gov/toxprofiles/tp24-c2.pdf
2. Source: The Mining Magazine, March 1963, Vol 108, pages 133–139
In summary: 
Exposure to barium causes hypertension, muscle weakness, and paralysis
Causes severe indigestion. 
Has been utilized as a poison to euthanize mammals in the past. 
Strontium
Strontium is a silvery metal found naturally as a non-radioactive element. About 99% of the strontium in the human body is concentrated in the bones.
Several different forms of strontium are used as medicine. Scientists are testing strontium ranelate to see if it can be taken by mouth to treat thinning bones (osteoporosis). Radioactive strontium-89 is given intravenously (by IV) for prostate cancerand advanced bone cancer. Strontium chloride hexahydrate is added totoothpaste to reduce pain in sensitive teeth.
Strontium chloride is the most common form of strontium found in dietary supplements. People use supplements for building bones. But there isn't much scientific information about the safety or effectiveness of strontium chloride when taken by mouth.
How does it work?
A special form of strontium called strontium ranelate can increase bone formation and prevent bone loss when used in postmenopausal women with osteoporosis. It's not known if strontium contained in dietary supplements has these effects.
A radioactive form of strontium may kill some cancer cells. This type of strontium is not available in dietary supplements.
There is some interest in using strontium for osteoarthritis because developing research suggests it might boost the formation of collagen and cartilage in joints.
There is also interest in studying strontium for preventing tooth decay because researchers have noticed fewer dental caries in some population groups who drink public water that contains relatively high levels of strontium.
Source: 
http://www.webmd.com/vitamins-supplements/ingredientmono-1077-STRONTIUM.aspx?activeIngredientId=1077&activeIngredientName=STRONTIUM
Bio-Active Crystalline Cationic Polymers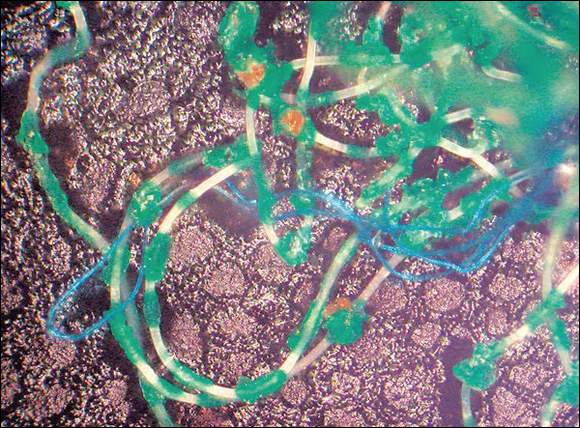 Bio active: activates upon introduction to life
Crystalline: Composed of crystalized units
Cationic: Positive charge
Polymers: a mollecule with repeating structural units.
"We do know that these polymers are of a crystalline morphology, are very friable and break into millions of small fragments in the atmosphere, are inhaled and in some cases are bio-active causing serious skin lesions and diseases when absorbed into the skin. The filaments are lyophillic or are oil soluble (upper epidermis oils melt the polymer fragments and are absorbed into the skin). We have clearly identified the US Air Forces polymer technology used in UV Radiation Mitigation strategies. The use of encapsulated Ultra-Violet Absorbers, Mannin and other organic compounds to absorb UV or reflect radiation have been found in US Patents."
"An example is in California and the utilization of a cationic reaction polymer containing heavy-metal yellow-chromate for highway line-painting. I have actually seen this machine spray the lines. Uniquely, cationic polymers have an extremely high capacity for use of heavy -metals. They don't coagulate due to catalysis. This is fundamentally the opinion of many professional researchers in the ChemTrails debacle that Barium and Aluminum, Cadmium, Selenium and Thorium can be easily sprayed into the atmosphere, are chemically stable and reflect UV and may carry a specific electronic charge. This is the model aerosolized platform."
To rebut the idea of the filaments exuding from the lesions being composed of " wisps of cotton thread, probably coming from clothing or bandages;"
Randy Wymore, a molecular biologist who studies gene expression in cancer and heart disease at Oklahoma State University, was probably the first scientist to look at what doctors and dermatologists typically discard as bits of fluff and dust. In the spring of 2005, a student in his second year of cardiac pharmacology class asked Wymore a question about muscle fibers. On a Friday, searching the Web for answers, he hit upon some fiber disease and Morgellons sites. "It sounded totally crazy," he says. But, over the weekend, he kept thinking about the fibers. On Monday, he figured it should be easy enough to determine if the fibers really are from textiles, as doctors say, or from the body, as sufferers contend. So he e-mailed some of the people who'd posted photos of their fibers asking for samples to analyze.
He was expecting to get bags filled with dirt, ants, flies or cotton threads. Instead, within 48 hours, he started getting packages from Texas, Washington, Florida, California, Pennsylvania and other states. What he saw was surprising. "Even though they were coming from very different places, they all looked very similar to one another," Wymore says. "The texture and shades – a cobalt blue, red fibers that are almost a magenta color – are very, very similar." And they all autofluoresced, or glowed, in certain light. He picked threads out of bluejeans, fuzz from the carpet, even pepper flakes and compared them to the fibers. He became convinced that the fibers were something entirely different.
With a colleague, Rhonda Casey, a pediatrician, and a $4,000 grant from the Morgellons Research Foundation, Wymore got fresh fiber samples from 20 Morgellons patients. He brought them to fiber analysts at the Tulsa Police Department's forensic lab. The red and blue fibers did not match any of some 900 commercially available textiles in its database. They were not modified rayon, nylon, cotton or anything previously catalogued. Then forensic scientists tried to burn one of the fibers, heating it to 700 degrees Fahrenheit, to determine if it matched any of 85,000 known organic compounds. Again, nothing matched. And the heat, which typically vaporizes any organic material, did nothing to the blue fiber. "We were able to reach in with a tweezers and pick it up," Wymore says. So, he is pretty clear about what the fibers aren't. "But I don't have the foggiest idea what they are."
BREAKDOWN
Now that we have addressed the underlying construct and chemical composition of these "clouds" we can consolidate and vectorize the information. It is evident once the information is reviewed that all of the facets that compose the "Chem trail" phenomenon present severe complications to the human experience. Ethylene Dibromide poisons the liver, kidney and decreases fertility. Aluminum poisons the brain and causes cognitive dissonances such as "difficulty concentrating", "short term memory loss" and in some cases Alzheimers disease. Barium, when absorbed causes hypokalemia, symptoms consisting of muscular weakness, and physical fatigue. Bio-Active Crystalline Cationic Polymers (filaments) causelesions and severe itching as well as "crawling sensation" when absorbed into the body. This is in essence the list of symptoms associated with Morgellons disease. With this in mind we can directly link the Morgellons epidemic with "Cloud Seeding" phenomenon.
NEXT TIME:
I will be linking "Cloud Seeding" phenomena to Neural Decomposition.
Source:



https://stillnessstorm.wpengine.com/2014/01/cloud-seeding-and-morgellons/
Sign-up for RSS Updates: 
Subscribe in a reader
[Subscribe to Stillness in the Storm Blog by Email]
View and Share our Images. 
Curious about Stillness in the Storm? 
See our About this blog – Contact Us page.

If it was not for the gallant support of readers, we could not devote so much energy into continuing this blog. We greatly appreciate any support you provide!
We hope you benefit from this not-for-profit site 
It takes hours of work every day to maintain, write, edit, research, illustrate and publish this blog. We have been greatly empowered by our search for the truth, and the work of other researchers. We hope our efforts 
to give back, with this website, helps others in gaining 
knowledge, liberation and empowerment.
"There are only two mistakes one can make along the road to truth; 
not going all the way, and not starting." – Buddha
If you find our work of value, consider making a Contribution.
This website is supported by readers like you. 
[Click on Image below to Contribute]
(Visited 82 times, 1 visits today)