Further evidence that the Aug. 21 chemical attack was a false flag to frame Assad.
Credit: FreedomHouse via Flickr

U.S. Military: Al-Qaeda Rebels Produced Sarin Gas For Chemical Attacks In Syria
Posted By kit On September 13, 2013 @ 12:55 pm In Featured Stories,Tile,World at War 
Further evidence that the Aug. 21 chemical attack was a false flag to frame Assad
Kit Daniels
Infowars.com
September 13, 2013
A leaked U.S. military document reveals that Al-Qaeda possessed and produced "kitchen-grade" sarin gas for chemical attacks against the Syrian people, further adding to the evidence that the Al-Qaeda Syrian opposition launched the Aug. 21 chemical attack in Damascus as a false flag in order to frame Syrian President Bashar Al-Assad.
In May, Turkish anti-terror police confiscated a two-kilogram cylinder of sarin gas from members of the Jabhat al-Nusra Front based in Southern Turkey near the Syrian border, according to a classified report obtained by WND.
The National Ground Intelligence Center report states that Al-Qaeda in Iraq produced the sarin gas and then shipped it to the al-Nusra Front for use in Syria.
Two months prior to the confiscation, 26 people and Syrian government forces died from exposure to sarin gas delivered in a rocket attack on Aleppo, a city in the northwestern region of Syria near the Turkish border.
"The rocket came from a place controlled by the terrorists and which is located close to the Turkish territory," according to a Syrian government statement in response to the attack. "One can assume that the weapon came from Turkey."
The document also describes the sarin seized in Turkey as not being military grade but rather a "kitchen variety," which corresponds to the sarin gas used in the Aug. 21 chemical attack near Damascus, according to Dr. Yossef Bodansky, a top terrorism expert.
Bodansky said that unlike military grade sarin, the sarin used in the Damascus attack did not accumulate around the victims' hair and clothing.
If it did, said Bodansky, the sarin molecules would have detached from the victims and "killed or injured the first responders who touched the victims' bodies without protective clothes … and masks."
Yet there were no reported casualties among the first responders to the attack, none of whom were wearing adequate protective gear.
High-level U.S. intelligence officials reinforce Bodansky's conclusion, stating that they are not convinced that the Aug. 21 chemical attack was carried out per Assad's orders or that it was even carried out by Assad's government.
They are not even sure that Assad knew about the attack beforehand.
Intercepted Syrian military communications reveal that after the Aug. 21 attack, the Syrian general staff were in a complete panic thinking that their 155th Brigade launched an unauthorized chemical strike in defiance of prior orders not to do so.
This led to Syrian intelligence interrogating the major in charge of the brigade for three days, who adamantly denied firing any missiles and encouraged the general staff to count his weapons inventory.
All of the brigade's missiles were accounted for.
Pierre Piccinin da Prata, a Belgium writer who was kidnapped by the al-Nursa Front, said that during his captivity he overheard his rebel captors admit that they carried out the Aug. 21 chemical attack as a false flag in order to lure the United States into the conflict to help Al-Qaeda topple Assad.
"The government of Bashar al-Assad did not use sarin gas or other types of gas in the outskirts of Damascus," Piccinin said during an interview with a Belgium radio station.
Secluded from the outside world after being kidnapped, he only learned about the attack straight from his captors.
While the Obama administration continues to push our military into entering Syria as "al-Qaeda's air force," fighting alongside Islamic extremists recruited and armed by the CIA, the evidence strongly points to the al-Nusra Front, labeled a terrorist organization by the U.S., as responsible for the Aug. 21 chemical attack.
URL to article: http://www.infowars.com/u-s-military-al-qaeda-rebels-produced-sarin-gas-for-chemical-attacks-in-syria/
US military document: Rebels had sarin gas for attack in Syria
Posted By kurtnimmoadmin On September 14, 2013 @ 8:56 am In Tile,World at War
presstv.ir
September 14, 2013
A leaked US military document reveals that an al-Qaeda-affiliated terrorist group possessed and produced sarin gas to be used in chemical attacks in Syria.
The classified document obtained by WND, confirms that poison gas was confiscated earlier this year from members of the al-Nusra Front, a militant group that has been responsible for some of the most gruesome terrorist attacks directed at both Syrian soldiers and civilian population.
The National Ground Intelligence Center report states that al-Qaeda in Iraq produced the sarin gas and then shipped it to the al-Nusra Front in Syria.
Turkish anti-terror police seized a two-kilogram cylinder of sarin gas from members of the notorious terrorist group near the Syrian border.
"We regret to inform you that some of our former co-workers are telling us, categorically, that contrary to the claims of your administration, the most reliable intelligence shows that Bashar al-Assad was NOT responsible for the chemical incident that killed and injured Syrian civilians on August 21," the former officials wrote to Obama this month.
The former CIA, FBI, NSA, and military officials said that the incident was "a pre-planned provocation by the Syrian opposition and its Saudi and Turkish supporters."
URL to article: http://www.infowars.com/us-military-document-rebels-had-sarin-gas-for-attack-in-syria/
Saudis Sending Death Row Prisoners To Fight With Rebels In Syria
Posted By kurtnimmoadmin On September 14, 2013 @ 9:02 am In Tile,World at War 
DSWright
firedoglake.com
September 14, 2013
What is the role of Saudi Arabia in this proposal for a US military strike on Syria? It is not a question you will see asked much in the American media, but you should. Internationally there has been some coverage of the Saudi role, particularly the oceans of cash they've been lavishing on jihadist rebels for over a year. Rich Saudis like (now deceased) Osama Bin Laden and Saudi Intel Chief Prince Bandar are traditionally the biggest backers of radical Islamist groups in the world. President Assad continually noted in his interview with Charlie Rose that the Saudis were pouring their petro-dollars into Wahhabist Al-Qaeda linked rebels in Syria.
And now it is reported that the Saudi Arabian government is granting amnesty to death row inmates in exchange for them going to Syria to wage jihad.
Well, it seems some Saudi bureaucrats looked at the stalemate in Syria and came up with a way to think outside the box—and by "box" I mean "death row cell." According to a story filed by A.I.N.A., an Iraqi Assyrian PR agency, the Saudi Ministry of Interior came up with a brand-new plague to inflict on Syria in 2012: "Let's fly a bunch of death-row inmates over there and give them automatic weapons!" Seriously. Here's the memo:
URL to article: http://news.firedoglake.com/2013/09/13/saudis-sending-deathrow-prisoners-to-fight-with-rebels-in-syria/
Military Times Survey: 75% of Troops Oppose Strikes On Syria
Posted By yihan On September 14, 2013 @ 6:19 am In Featured Stories,Tile,U.S. News
Mike Krieger
Liberty Blitzkrieg
September 14, 2013
defense.gov
It's always a good sign for an empire's fortunes when the commander in chief of the armed forces completely loses the confidence and trust of the troops. While we have all seen various polls demonstrating the general public's complete opposition to unprovoked military aggression against Syria,I hadn't seen a survey focused on military members until now. The results are not good for the establishment. From the Military Times:
To the list of skeptics who question the need for air strikes against Syria, add an another unlikely group — many U.S. troops.
"I haven't heard one single person be supportive of it," said an Army staff sergeant at Fort Hood who asked not to be identified by name.
A Military Times survey of more than 750 active-duty troops this week found service members oppose military action in Syria by a margin of about three to one.
The survey conducted online Monday and Tuesday found that about 75 percent of troops are not in favor of air strikes in response to reports that the Syrian government used chemical weapons to kill civilians in that country.
A higher percentage of troops, about 80 percent, say they do not believe getting involved in the two-year-old civil war is in the U.S. national interest.
The results suggest that opposition inside the military may be more intense than among the U.S. population at large. About 64 percent of Americans oppose air strikes, according to a recent Washington Post-ABC News poll published Monday.
URL to Article: http://www.militarytimes.com/interactive/article/20130911/NEWS/309110009/Troops-oppose-strikes-Syria-by-3-1-margin
The People Say No to War with Syria
Sheldon Richman|Sep. 13, 2013 4:30 pm
The Constitution did not keep President Obama from attacking Syria. The people did. Think about that.
Obama, his top advisers, and many of his partisans and opponents in Congress insist that the president of the United States has the constitutional authority to attack another country without a declaration of war or so-called "authorization for the use of military force" even if that country poses no threat whatever to the United States, the American people, or what are vaguely called "our interests." This seems wrong, especially in light of the 1973 War Powers Act. But Obama already asserted this alleged authority in Libya. Bill Clinton did it in Kosovo and Bosnia through NATO and the UN. George H.W. Bush did it in Panama. Ronald Reagan did it in Lebanon and Grenada. And so on back to Harry Truman in Korea. (I'm ignoring the many covert wars.)
Constitution, Shmonstitution. War Powers, Shmar Powers.
Nevertheless, Obama has not bombed Syria (yet). Two weeks ago he told us he had decided to do so, but then he decided to put the question to Congress. After Russia offered to help collect and destroy Syria's chemical weapons and Bashar al-Assad agreed, Obama asked Congress to delay the vote.
What happened?
The people happened. Public-opinion polls showed at once that most of us do not want Obama to commit an act of war against Syria. Furthermore, the people inundated Congress with calls and emails. Because of this (and in some cases personal conviction), most members of Congress also do not want war with Syria. Obama got the message: he was heading for sure defeat in the House of Representatives and perhaps in the Senate. He couldn't bear the prospect of rebuff.
Russian president Vladimir Putin gave him a graceful way out. Because the people didn't want war, when a possible diplomatic solution arose, Obama had to go for it. The people gave him no choice.
It's amusing to listen to the establishment pundits who are appalled that members of Congress are watching opinion polls rather than "exercising leadership" on Syria. Not long ago, many of these same pundits urged members of Congress to heed the polls and pass expanded background checks for gun purchases. I'm looking hard for the principle here, but for the life of me I can't find it.
So the people—not the Constitution—stayed Obama's hand.
There's a lesson here. No paper constitution ever restrained a government. What ultimately restrains governments is a sufficiently large number of people with certain ideas—an ideology—about the limits to state power. If those ideas change, the power of government will expand or contract, depending on the case, even if no single word of the paper constitution changes. Constitutions don't interpret or enforce themselves. Methodological individualists know that only persons do such things, and they do them on the basis of their ideology (explicit or implicit). It's people all the way down. (See my "Where Is the Constitution?")
This doesn't mean that politicians slavishly obey the people. But politicians do care about elections and are aware that there are limits to state action set by the dominant (tacit) ideology that they cross at their peril. Moreover, government has immense power to shape what people want. It can also obscure what it's doing, raising the cost of finding out what really goes on, as well as the cost of resisting if the people do find out. (See my review of Charlotte Twight's book on this subject, Dependent on D.C., and my "Democracy of Dunces," a review of Bryan Caplan's The Myth of the Rational Voter.)
Étienne de La Boétie, the 16th-century French political philosopher, pointed out what should be obvious: the ruled always outnumber their rulers. In The Politics of Obedience: The Discourse of Voluntary Servitude, he asked,how it happens that so many men, so many villages, so many cities, so many nations, sometimes suffer under a single tyrant who has no other power than the power they give him; who is able to harm them only to the extent to which they have the willingness to bear with him; who could do them absolutely no injury unless they preferred to put up with him rather than contradict him. Surely a striking situation!…
Obviously there is no need of fighting to overcome this single tyrant, for he is automatically defeated if the country refuses consent to its own enslavement: it is not necessary to deprive him of anything, but simply to give him nothing; there is no need that the country make an effort to do anything for itself provided it does nothing against itself. It is therefore the inhabitants themselves who permit, or, rather, bring about, their own subjection, since by ceasing to submit they would put an end to their servitude.
A people enslaves itself, cuts its own throat, when, having a choice between being vassals and being free men, it deserts its liberties and takes on the yoke, gives consent to its own misery, or, rather, apparently welcomes it.
Americans have done a good bit of that over the years, so their stopping this proposed war with Syria is a breath of fresh air, or perhaps it is a small spark of libertarianism that can be fanned into a blaze. It's worth a try. (See my "Subjugating Ourselves." Also see Edward Stringham and Jeffrey Rogers Hummel's "If a Pure Market Economy Is So Good, Why Doesn't It Exist?")
Yes, war with Syria is still possible. Obama could decide that Putin's idea was a ploy (maybe it is) and proceed to scare Americans into changing their minds about war. We'll have to be on guard against that. For the time being, the people say no.
The pundits blame "war-weariness" for the public's opposition. I regard that as an insult. What they mean is that because of our fatigue, we don't know what we're saying when we say we don't want another war. We're talking nonsense because we aren't thinking straight. So we should be ignored by the people who, unlike us, are thinking clearly. Apparently, favoring war is a sign of thinking clearly.
I don't believe people are war-weary. Instead, as someone has said (I can't remember who), they are war-wary. They've been burned too many times by their (mis)leaders and (mis)representatives. Ten years ago they were assured with "slam dunk" intelligence that Iraq was a threat because of its WMD. (A few noble reporters debunked these claims.) No WMD were found. Twelve years ago we were told we had to go to war against Afghanistan to protect ourselves from al-Qaeda. The war rages on, and al-Qaeda or its like has spread to Iraq, Libya, Syria, Yemen, Mali, Somalia, and other places. Many people have been killed, maimed, and psychologically scarred; over a trillion dollars has been squandered with no end in sight — for what? The military-industrial complex grows fat, and the economy sputters.
Americans have had enough, and it's about time. Their "no" to war is the best news we've had in a long time.
This column originally appeared at the Future of Freedom Foundation.
URL to Article: http://reason.com/archives/2013/09/13/the-people-say-no-to-war-with-syria/print
US-Russia reach landmark deal on destruction of Syria chemical weapons arsenal
Published time: September 14, 2013 10:15
Edited time: September 14, 2013 13:32
US Secretary of State John Kerry (L) and Russian Foreign Minister Sergei Lavrov shake hands at the end of a press conference in Geneva on September 14, 2013 after they met for talks on Syria's chemical weapons. (AFP Photo/Larry Downing)
Download video (24.85 MB)
Russia and the United States reached a deal on a framework that will see the destruction or removal of Syria's chemical weapons by mid- 2014. Under the plan, the Assad government has one week to hand over an inventory of its chemical weapons arsenal.
Russian Foreign Minister Sergey Lavrov and his US counterpart John Kerry announced the plan on putting an end to Syria's chemical weapons program following their third day of negotiations in Geneva, Switzerland.
Kerry outlined several points of the plan, which would see the "rapid assumption of control by the international community" of Syria's chemical weapons. He further stressed US-Russia commitment to the complete destruction of not only of Syria's chemical weapons arsenal, but also its production and refinement capabilities.
Syria will also become a party to the Organization for the Prohibition of Chemical Weapons (OPCW), which outlaws their production and use.
Damascus must submit within a week's time – "and not 30 days" – a complete inventory of related arms,"including names, types, and quantities of its chemical weapons agents, types of munitions, and location and form of storage, production and research and development facilities."
The Syrian government should provide the OPCW, the UN and other supporting personnel "with the immediate and unfettered right to inspect any and all sites in Syria." Lavrov later said that security for all international inspectors on the ground should be provided for not only by the government, but opposition forces as well.
It remains undecided who will actually be tasked with destroying the stock, although their destruction"outside of Syria" and under "OPWC supervision" would prove to be optimal.
On the timetable, Kerry said UN inspectors must be on the ground no later than November, while the destruction of chemical weapons must be completed by the middle of 2014.
"Providing this framework is fully implemented it can end the threat these weapons pose not only to the Syrian people but also their neighbors," Kerry said adding that Russian and US teams of experts had reached "a shared assessment" of the existing stockpile and that Syria must destroy all of its weapons. It was possible that the Syrian rebels have some chemical weapons, he acknowledged.
If Damascus fails to comply with the plan, a response in accordance with UN Charter Chapter 7 will follow, Kerry said, in a reference to the use of military force. The chapter provides for "action by air, sea, or land forces as may be necessary to maintain or restore international peace and security" in the event other measures fail.
People walk along a damaged street filled with debris in Deir al-Zor September 4, 2013. (Reuters//Khalil Ashawi)
But Russia's Foreign Minister, Sergey Lavrov, said the agreement did not include any potential use of force against Syria. He however said that deviations from the plan, including attacks on UN inspectors, would be brought to the UN Security Council, which would decide on further action.
There is no prior agreement about what form the Security Council's measures might take if Syria does not comply, Kerry said.
The joint press conference was rather jovial in nature, contrasting sharply with the public barbs which have been traded between Russian and US officials in recent days.
Kerry in fact concluded the press conference by teasing Lavrov that he "could be a senator" after the Russian FM gave a rather voluble reply to a question posed by a Russian journalist.
Kick starting Geneva II
Meanwhile, both sides reiterated previously stated intentions to meet with Lakhdar Brahimi, the United Nations and Arab League Special Envoy to Syria, on the margins of the UN General Assembly on September 28.
Speaking alongside Kerry and Lavrov in Geneva on Friday, Brahimi said ongoing work to put Syria's chemical weapons under international control was a necessary step for convening the Geneva II conference. The conference, which is intended to hammer out a political solution to the brutal civil war which has embroiled Syria for over two years, could be held in October, Lavrov told reporters.
On Monday, UN Secretary-General Ban Ki-moon is expected to present a report to the Security Council which sources say contains overwhelming evidence that "chemical weapons were used" in an August 21 attack in a Damascus Suburb which killed between 355 and 1,729 people.
The government of Bashar Assad strongly denied government forces were responsible for the attack, while the West overwhelmingly blamed Damascus, prompting US Barack Obama's threat of military action.
Obama has threatened to strike Syria unilaterally, prompting Russia's Saturday's joint proposal which will see Syria's chemical weapons brought under international control.
Although President Assad immediately acquiesced to the Russian-backed plan, rebel forces have resisted efforts which have staved off Western intervention in the country.
On Saturday, the Free Syrian Army rejected a US-Russian deal as a stalling tactic and vowed to continue fighting to topple the Assad government.
"The Russian-American initiative does not concern us. It only seeks to gain time," said Salim Idriss, the chief of the FSA command, said.
"We completely ignore this initiative and will continue to fight to bring down the regime," he told a press conference Saturday in the Turkish city of Istanbul.
URL to article: http://rt.com/news/lavrov-syria-kerry-chemical-861/
Poll: Fewer Americans Than Ever Trust Gov't to Handle Problems
Joy Wilke and Frank Newport
Gallup.comSept. 13, 2013
Americans' trust and confidence in the federal government's ability to handle international problems has reached an all-time low, with 49% saying they have a great deal or a fair amount of confidence, two percentage points below the previous low of 51% recorded in 2007.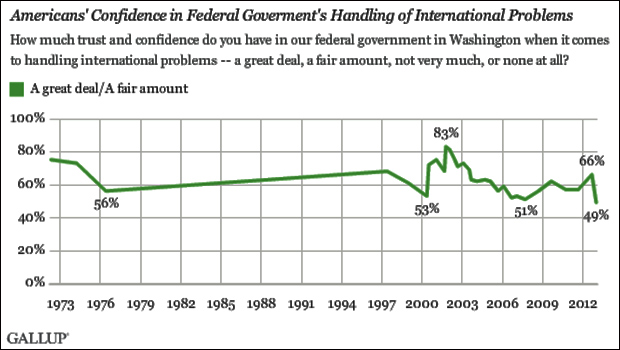 Americans' trust in government is lower than it's ever been… ever.
These new data come from Gallup's annual Governance survey, conducted Sept. 5-8, 2013, while Congress was debating the use of military force in Syria, but prior to President Barack Obama's nationally televised address on Syria, and Russia's proposal to avert U.S. military action.
Between 57% and 66% of Americans said they had a great deal or a fair amount of confidence in the U.S. government to handle international problems during Obama's first term. This represents a generally higher level of confidence than Americans expressed during the latter years of the Bush administration, when the U.S. was engaged in protracted wars in Iraq and Afghanistan.
URL to article: http://www.gallup.com/poll/164393/fewer-americans-ever-trust-gov-handle-problems.aspx
Turkish prosecutors indict Syrian rebels for seeking chemical weapons
Published time: September 14, 2013 04:01
Syrian couple mourning in front of bodies wrapped in shrouds ahead of funerals following what Syrian rebels claim to be a toxic gas attack by pro-government forces in eastern Ghouta, on the outskirts of Damascus on August 21, 2013.(AFP Photo / Shaam News Network )
A court indictment by the Turkish prosecutors into the alleged use of chemical weapons by the Syrian rebels has once again highlighted fears this week that sarin toxic gas was used by the opposition and not the Assad government.
The prosecutor in the Turkish city of Adana has issued a 132-page indictment, alleging that six men of the al-Qaeda-linked al-Nusra Front and Ahrar ash-Sham tried to seek out chemicals with the intent to produce the nerve agent, sarin gas, a number of Turkish publications reported.
The main suspect in the case, 35-year-old Syrian-national Hytham Qassap has been charged with "being a member of a terrorist organization" and "attempting to acquire weapons for a terrorist organization." The other 5, all Turkish nationals are being charged with "attempting to acquire weapons for a terrorist organization."
The indictment alleges that Qassap tried to setup a network in Turkey in order to obtain chemical materials for the al-Nusra Front and Ahrar al-Sham Brigades. Citing telephone calls made by the cell, the prosecution believes that the group ordered at least ten tons of chemicals, Al-Alam News Network reports.
The prosecution also dismissed claims that the suspects were unaware of their wrong doing. "The claim that the suspects didn't know about the possibility of producing sarin nerve gas from the chemicals they tried to buy is not true which was established when they were testifying," the document reads.
Meanwhile all six suspects have pleaded not guilty. "The suspects have pleaded not guilty saying that they had not been aware the materials they had tried to obtain could have been used to make sarin gas. Suspects have been consistently providing conflicting and incoherent facts on this matter," the indictment said.
If convicted, Qassab faces a 25 year prison sentence, while his accomplices face 15 years prison terms.
The six men were a part of a group of 11 people arrested in their safe house in Adana on May 23, 2013. Their apprehension came about after surveillance by Turkish police who'd received a tip that Syrian jihadists were trying to acquire two government-regulated military-grade chemical substances. Five of the detained were released from custody after questioning, background checks and after lab tests proved that chemicals seized during the arrest were not sarin gas.
A woman mourning over a body wrapped in shrouds laid out in a line on the ground with other victims which Syrian rebels claim were killed in a toxic gas attack by pro-government forces in eastern Ghouta, on the outskirts of Damascus on August 21, 2013.(AFP Photo / Shaam News Network )
The international community has long been ignoring worrying reports that the rebel fighters in Syria might be capable of carrying out a chemical attack. Russian President, Vladimir Putin also reiterated this week that while no one doubts that poison gas was indeed used in Syria, there is "every reason to believe it was used not by the Syrian Army, but by opposition forces, to provoke intervention by their powerful foreign patrons."
Evidence that chemical weapons were used by the opposition was also highlighted by the two European hostages that were freed from Syrian rebel captivity last Sunday. In a phone conversation overheard by hostage Pierre Piccinin da Prata, he said it was clear the rebels used gas on civilians in an August 21 attack near Damascus.
"I don't think that Bashar Al-Assad and the Syrian government are to blame for the chemical attack in Al-Ghouta," Piccinin told RT. "It would have been absurd for the Syrian government to use chemical weapons."
The Syrian government has always rejected any accusations of using chemical weapons. After one of the first alleged incidents in Aleppo in March, it was the government that called on UN to send in chemical experts. Another alleged chemical weapons use was reported in Homs in December 2012.
Russian experts flew out to the site of the attack in March to collect samples from the incident. On 9 July 2013, Moscow submitted the results of its inquiry into the use of chemical weapons at Aleppo to the United Nations. Russian scientists analyzing the 19 March 2013 attack found that it was most likelylaunched by opposition forces, and not the Syrian government.
"It was determined that on March 19 the rebels fired an unguided missile Bashair-3 at the town of Khan al-Assal, which has been under government control. The results of the analysis clearly show that the shell used in Khan al-Assal was not factory made and that it contained sarin," UN envoy Vitaly Churkin has said.
The United Nations independent commission of inquiry on Syria into the attack in March concluded that no evidence of the use of sarin by Syria's government troops has so far been uncovered. The lead investigator, Carla Del Ponte, did hint that it was the rebels that most likely used the chemical weapons.
Smoke above buildings following what Syrian rebels claim to be a toxic gas attack by pro-government forces in eastern Ghouta, on the outskirts of Damascus on August 21, 2013.(AFP Photo / Shaam News Network )
"The Independent International Commission of Inquiry on the Syrian Arab Republic wishes to clarify that it has not reached conclusive findings as to the use of chemical weapons in Syria by any parties to the conflict. As a result, the Commission is not in a position to further comment on the allegations at this time," the statement read. 
Meanwhile, the UN chemical weapons inspection team has completed the report on the latest chemical attack in Syria on August 21 and will deliver it to UN Secretary General Ban Ki-Moon over the weekend.
"I believe that the report will be an overwhelming report that chemical weapons (were) used, even though I cannot publicly say at this time before I receive this report," Moon said.
Although the team was not authorized to draw any conclusions on who was the perpetrator of the attack, a number of US officials speaking to the media on condition of anonymity over the last couple of days indicated that the report would hint the Assad government was responsible. 
European politicians split over influx of Syrian refugees
Published time: September 14, 2013 13:37
rt.com
Download video (15.44 MB)
The UN has reported a significant surge in the number of Syrian refugees trying to reach Italy by sea. Some politicians, meanwhile, tell RT they are troubled by the growing numbers of asylum seekers and how EU countries are going to cope.
Some 4,600 Syrian refugees have taken risky boat trips across the Mediterranean to reach southern Italy since the beginning of this year, the UN refugee agency, UNHCR, reports. Two-thirds of those asylum seekers arrived in August, the agency says.
"Over the past 40 days, [some] 3,300 Syrians, of whom more than 230 were unaccompanied children, have come ashore – mainly in Sicily. Some 670 of these arrivals were during the past week," UNHCR spokesman Adrian Edwards told reports in Geneva on Friday.
While Italy is coping with the increasing number of asylum seekers, German has started accepting the 5,000 Syrian refugees it promised to shelter.
The 5,000 are coming from Lebanon, which is currently giving shelter to 700,000 Syrian refugees, and their applications will be considered by Germany's Interior Ministry, in cooperation with the UNHCR.
Staff will examine "the relevant information in the registration papers, contact the people and ask them if they would be prepared to go to Germany," Deutsche Welle reported Stefan Telöken, UNHCR spokesperson in Germany, as saying.
While refugee groups criticize the German approach for its selectiveness and say the country could accommodate more of the overall two million Syrian refugees, author and researcher William Engdahl says Germany could do more to eradicate the reasons for the crisis instead of just trying to cope with its effects.
"The problem is the EU governments continue to support the rebels, including German intelligence, and covertly in other ways. I think it's completely cynical of Germany to pretend to be this humanitarian [host] for 5,000 refugees at the same time they are pouring aid [into the war]… Let's stop the reason why people are leaving their homes. They aren't leaving willingly," Engdahl told RT.
Syrian refugees disembark from a plane in Hanover on September 11, 2013. (AFP Photo/John Macdougall)
When Syrian refugees arrive in Germany, they are supposed to spend two weeks in transit camps, where they will taught some basic German and given some help on adapting to life in the country, before being sent to various parts of Germany. The country's largest state, North Rhine-Westphalia, will host the at least 1,060 Syrians fleeing the conflict.
Some German politicians, like Markus Beisicht, from the Civil Movement for North Rhine-Westphalia, are less than welcoming to people fleeing the war.
"Our government is opening the door," Beisicht told RT. "It's 5,000, then 50,000, then more and more. Our cities, like Leverkusen, can't finance that. We're broke. It's not Germany's responsibility to solve the problems of the Arab world with our taxes."
Syria's refugee crisis is "the gravest in the world" at this moment, according to a recent UN report, which states that, with 4 million people displaced inside the country and another 2 million forced to leave Syria altogether, the total number of Syrians forced out of their homes is 6 million.
The report also states that, in response to the US threat of military strikes against the country, an estimated 5,000 Syrians fled the country every day.
For more on the plight of the Syrian refugees in Europe, watch RT Peter Oliver's report from Berlin.
URL to article: http://rt.com/news/syrian-refugees-europe-divided-857/
Related
(Visited 283 times, 1 visits today)